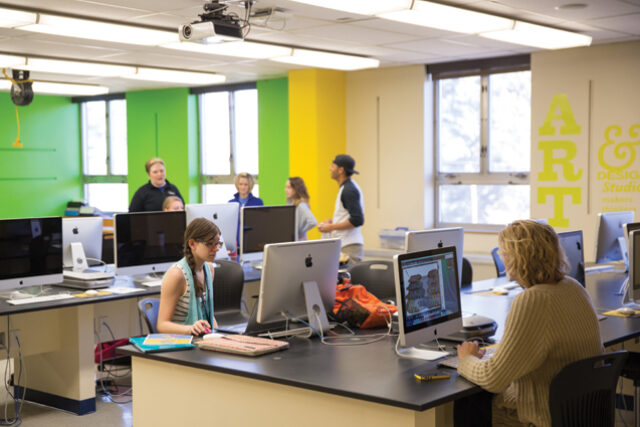 Graphic Design
Clarke's new Graphic Design Studio meets the growing demand of the design world – we are an award-winning art and design program that leverages the latest digital technologies and delivery systems. The 2,000-square-foot studio houses 20 state-of-the-art iMac workstations, optical scanners, a laser printer, production tables, and a deceivingly comfortable mid-century, orange Knoll couch. With bright green, orange and yellow painted walls, coupled with rigorous design challenges, students are assured to stay atop of their design game.
And it doesn't all happen inside the digital box. Creative solutions most often begin and end with artistic hand skills, ranging from sketchbook activities to 3D cardboard constructions. Pens, markers, glue guns, utility knives, paint and collage are all equally important tools in a maker's toolbox within the Graphic Design Studio. The GDS Woodward Fabrication Lab (Fab Lab) is all about rapid prototyping and high-end output as it houses a 44-inch Epson wide format inkjet printer, and Makerbot Replicator, 3D printer.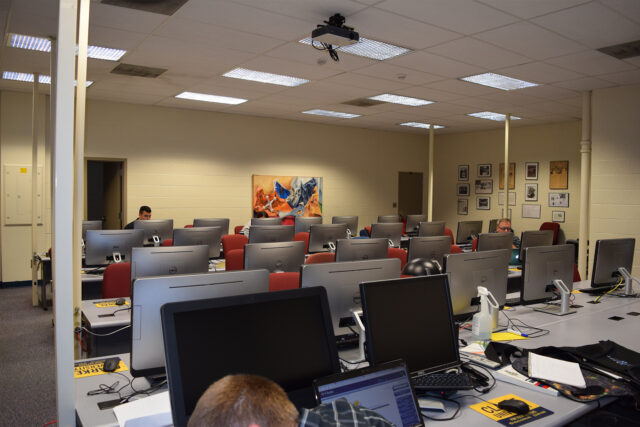 Computer Lab
6 high end Windows PC, 2 iMacs, Oculus Rift (VR) with Oculus Touch, Parrot Drone, 3D scanner, 2 iPads and 1 iPad mini.
Thinking Outside the Lines
Creative Thoughts Gather Here