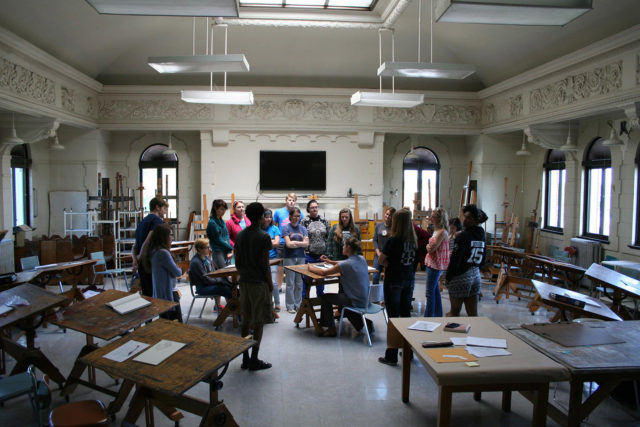 Art
The main painting and drawing studio is on the top floor of Eliza Kelly Hall built in 1905. It is a beautiful space with skylight, windows on three sides offering views of the Mississippi River.
The sculpture and ceramics studios are located on the ground level of Eliza Kelly Hall and have been renovated in recent years with the addition of a wood shop, welding equipment and new gas kiln.
Printmaking is located close by in the Wahlert Atrium and is fully equipped for etching, screenprinting, relief printing and letterpress. Clarke continues to teach traditional film photography with a darkroom in Catherine Byrne Hall.
The Quigley Art Gallery was established in 1986. Every senior studio art student creates an exhibit separate from their normal classwork (graphic design majors create an individual exhibit in a group setting) that is displayed in Quigley. However, this area is not reserved just for senior students. It is also open to sophomores and juniors as well as non-art majors.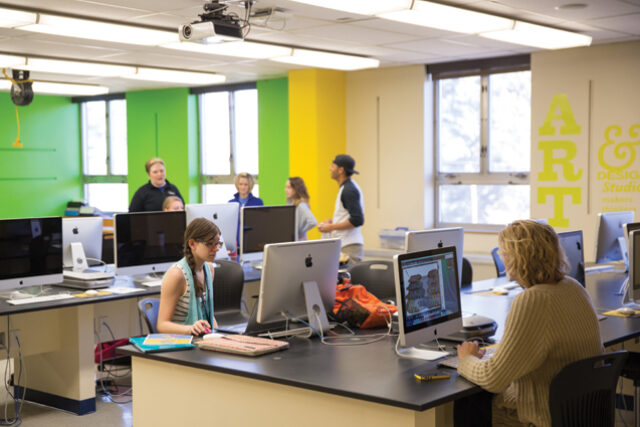 Graphic Design
Clarke's new Graphic Design Studio meets the growing demand of the design world – we are an award-winning art and design program that leverages the latest digital technologies and delivery systems. The 2,000-square-foot studio houses 20 state-of-the-art iMac workstations, optical scanners, a laser printer, production tables, and a deceivingly comfortable mid-century, orange Knoll couch. With bright green, orange and yellow painted walls, coupled with rigorous design challenges, students are assured to stay atop of their design game.
And it doesn't all happen inside the digital box. Creative solutions most often begin and end with artistic hand skills, ranging from sketchbook activities to 3D cardboard constructions. Pens, markers, glue guns, utility knives, paint and collage are all equally important tools in a maker's toolbox within the Graphic Design Studio. The GDS Woodward Fabrication Lab (Fab Lab) is all about rapid prototyping and high-end output as it houses a 44-inch Epson wide format inkjet printer, and Makerbot Replicator, 3D printer.
Thinking Outside the Lines
Creative Thoughts Gather Here