An Evening with Josh Ritter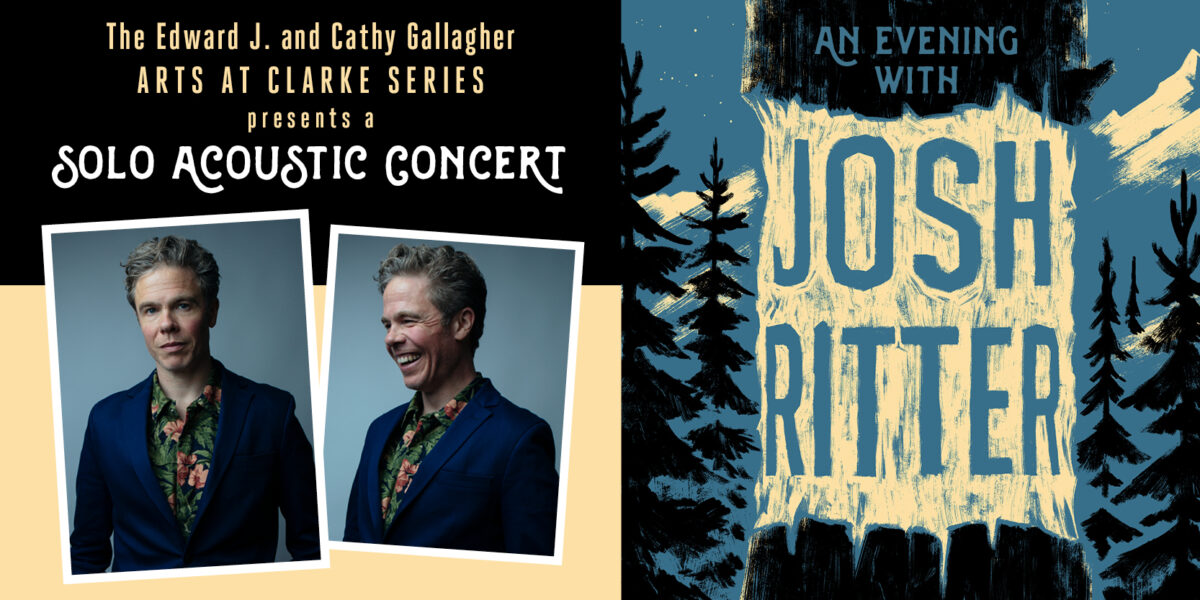 Live music returns to Clarke on Wednesday, September 29, 2021
In an effort to protect the health of everyone participating in this event, Josh Ritter requests that attendees be vaccinated for COVID-19 or have had a negative COVID test within 72 hours of the performance. Masks will be required to be worn by anyone inside the venue.
—————–
Clarke University welcomes Josh Ritter to campus for a solo acoustic concert on Wednesday, September 29. The performance marks the first Arts at Clarke event for the 2021-2022 school year. 
Josh Ritter is a singer/songwriter who has been compared to the likes of Bob Dylan and Bruce Springsteen by critics and fans alike. He is known for his Americana style and narrative storytelling and was named one of Paste magazine's "100 Greatest Living Songwriters." With this fall's acoustic tour, Ritter chose intimate venues like Clarke's Terence Donaghoe Hall in order to form a deeper connection with audiences.  
"I want my first set of shows in a year and a half to be in places that will allow me to sing some of the stranger, quieter, more narrative songs that I may not always get to at a rock show," Ritter said in a statement. "I want the venues to be special and beautiful, I want laughter and music and stories that are true even if they're unreal. Finally, I want to perform again, stomp the dust off, see what new appendages and teeth and claws have grown from this time in the wilderness, see what joy can come from sorrow and what tears can come from joy." 

Josh Ritter Concert Details:
Concert begins at 7:30 p.m., doors open at 6:45 p.m.
Terence Donaghoe Hall on the campus of Clarke University in Dubuque, Iowa
$20/person for general admission
Free/students & faculty
Physical address: 1550 Clarke Drive, Dubuque, Iowa 52001