Welcome to Clarke University
As the newest member of the Clarke community, you are probably excited and a bit nervous. You may also have many questions about the college and your role as a new student. Clarke has designed a special CONNECT program to ensure a smooth transition to your new college environment. You will have the chance to get acquainted with the campus, meet other new students, and learn where campus resources are located.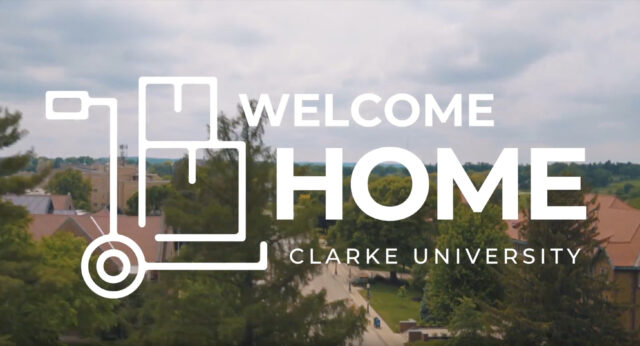 Fall 2022 CONNECT Orientation
New student orientation will take place on Clarke's campus in August 2022. First-year student CONNECT orientation will take place Thursday, August 18th through Sunday, August 21; with classes beginning on Monday, August 22. New transfer student CONNECT orientation will take place on Friday, August 19.
Students who have not yet registered for classes or who need to complete the writing assessment will do so in the morning, immediately prior to the start of orientation sessions. Admissions staff will coordinate writing assessment and registration communication with new students.
Early Arrival Fall Athletes & Residence Hall Move-In
Athletes on women's and men's soccer, cross country, football, and women's volleyball will all arrive to campus early for team training. The early arrival dates are:
Football: Friday, August 5 (9am – 12pm, 1-4pm); Parent Open Reception from 3-4pm in Fabiano Conference Room (Atrium)
Women's & Men's Soccer, Women's Volleyball: Saturday, August 6 (9am – 12pm); Parent Open Reception from 1-2pm in Rose O'Toole (Mary Josita Hall)
Women's & Men's Cross Country: Wednesday, August 10 (9am – 12pm); Parent Open Reception from 1-2pm in Fabiano Conference Room (Atrium)
All other new students moving into the residence halls for the fall 2022 semester will be able to move belongings during a pre-determined time, scheduled with Residence Life, on Thursday, August 18. Residence Life staff will communicate move-in details directly with students who have completed a housing contract for the fall 2022 term.
International Student Orientation
While all students are required to participate in our CONNECT orientation program, we recognize that international students have a nuanced and unique transition to college in the U.S. Therefore, international students are asked to participate in an orientation that focuses on items specific to the processes related to being on an F1 visa, as well as campus policy and cultural/social norms to those living in the U.S. and Dubuque.
New student orientation, CONNECT, begins on Thursday, August 18, 2022. International Student Orientation is planned for Friday, August 19 at 4:30 p.m. as part of the CONNECT schedule. Individual or small group sessions may take place prior to this date for early arrival athletes; schedules will be coordinated and communicated with coaches.
CU Move-In Crew
We Like to Move It