Bellevue Grad Earns Honors in the Classroom and On the Court
By Clarke News | May 9, 2023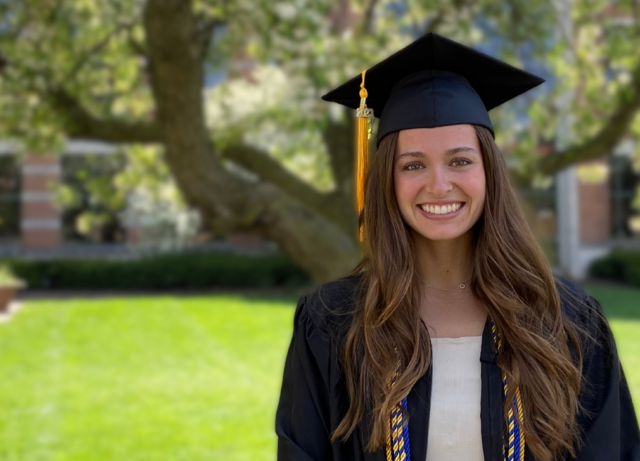 Ever since she was a kid, Giana Michels '23 has been curious. It's a trait her family has always loved about her – especially her mother, Clarke alumna Jennie (Freiburger) Michels '11. Jennie encouraged her daughter to check out Clarke, a place where she could keep exploring and still have the support of family close by. 
"Science has always been one of my favorite subjects, so I set up a visit with two Biology professors at Clarke," Giana said. "I was able to get a better understanding of the perks of the program, one of which is the cadaver lab. I wanted that hands-on learning to deepen my understanding of the human body. I knew being able to take these classes in my undergraduate studies would help prepare me for medical school someday." 
Now a Biology and Pre-Medicine major, Giana has also gained valuable research experience at Clarke. Under the guidance of faculty, Giana has spent her junior year researching treatments of glaucoma – research that takes on deeper meaning when she can see the impact it has on patients in the nursing home where she works.  
"I am grateful for my experience doing primary research pertaining to prostaglandin analogues as an undergraduate student with two well-accomplished Biology professors at Clarke University and to see how research can impact patients in the clinical setting," Giana said. "The experience has also strengthened my ability to decipher research findings and results, as well as communicating this knowledge to others through papers and presentations." 
For her dedication, Giana was selected by her Biology classmates and faculty for the Sister Mary Ignacio Walsh, BVM Biology Award in 2021 – but that is far from the only item on her list of accolades. She is a member of the Biology Club, the Clarke Inclusive Games, Dance Marathon, and a four-time participant in Clarke's "Into the Streets" Day of Service, earning her the Mabel Rooney & Alois Hoffman Scholarship for her community involvement. To cap off her senior year, she won the Francis J. O'Connor Memorial Award, the highest award bestowed upon a Clarke graduate.
Being the recipient of the Francis J. O' Connor Award is such a humbling honor. Without the support of my professors, friends and teammates, and family, I would not have been fortunate enough to have such an amazing college experience and be considered for this award. It is pretty easy to be yourself, stay involved, and build relationships when Clarke feels like home. The memories created during my entire Clarke experience, especially those created during my senior year, are some I will never forget. 
Giana Michels '23
Giana is also a decorated student-athlete for Clarke Pride Women's Basketball and has been with the team for several memorable seasons, leading up to their National Championship this year. She received All-Heart Conference Honorable Mention in 2021 and 2023, and 2nd-Team and Defensive Team honors in 2022. She was nominated for the prestigious national Emil S. Liston Award for athletic and scholastic achievement in advance of the 2022-2023 season.  
For Giana, each of these accomplishments mean more because she can celebrate them with those she loves who are close by.  
"Staying close to home has allowed me to have the best of both worlds. I have the freedom of a typical college student, while also having the ability to make the short 30-minute drive home to see my parents after a rough day," Giana said. "Plus, having my family at every home game, and even every away game means so much to me because of the support they have provided to me since I first started playing basketball years ago."
Following graduation, Giana plans to pursue medical school and would like to practice in the Dubuque area. Until then, she intends to keep learning and growing with every opportunity. 
"Throughout my time here at Clarke, I feel like I have grown and matured in many ways. I remember being the scared freshman who mostly kept to herself, and now looking at all the clubs I am a part of, and the friendships I have made along the way, I'm proud of all I've done," Giana said.