Clarke Goes 'Into the Streets' Nov. 19
By Clarke News | November 9, 2022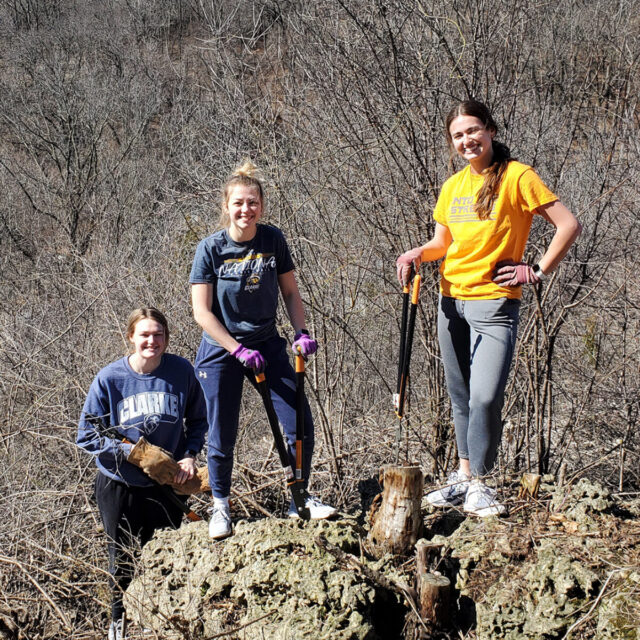 On Saturday, November 19 Clarke students will go "Into the Streets" for a half day of service in Dubuque and the surrounding area.  
Throughout the day, over 80 Clarke students will volunteer at 15 organizations, including the Dubuque Regional Humane Society, Mt. Carmel, Dubuque Rescue Mission, Hills and Dales, and more. Their service includes everything from groundskeeping and cleaning to helping religious orders prepare for the Advent and Christmas season. 
"Into the Streets is about letting the Dubuque community know that we recognize our place within the greater whole," said Sister Kathleen Sinclair, BVM, Director of Campus Ministry and coordinator of the Into the Streets program. "It offers these organizations, who may be understaffed or on a tight budget, some additional help and resources." 
More than that, it is an opportunity for Clarke students to give without requirement. This isn't about credit or service hours. We're going out the week before Thanksgiving as a way of giving back our thanks to this community.
Sr. Kathleen Sinclair, BVM, Director of Campus Ministry
While the annual event is a wonderful tradition, it is far from the only way Clarke nurtures its ties to the Dubuque community. Initiatives are built into courses, athletics, and student life so that 100 percent of Clarke students complete at least one service-learning opportunity before graduation. The efforts lend themselves to what Sr. Kathleen calls a ministry of presence. 
"Some of these events are one and done, but so much of what we do is about on-going relationships," Sr. Kathleen said. "In a way, we are going into the streets all year long. It might be a nursing class making baskets for the Red Basket Project or our resident assistants meeting with the BVM Sisters at Mt. Caramel for Prayer Partners. Our ministry is about walking beside a person and being there with them. Your life can be a blessing to another, and just as our students reach out to others, we are there for them as well." 
Learn more about campus ministry and involvement opportunities at https://clarke.edu/campus-life/spiritual-life/campus-ministry/.