Biology Graduate Embodies Lifelong and Life Changing Learning
By Clarke News | May 13, 2022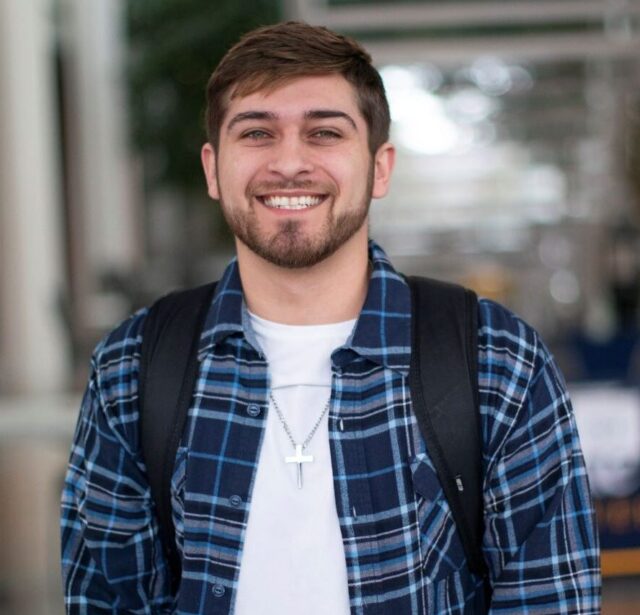 When you meet Anthony Gonzalez, it doesn't take long to see his leadership potential. From his position on the football team to volunteering with Dance Marathon, Biology Club, the Clarke Student Association and more, he is never afraid to try something new.  
"My schedule might seem overwhelming to some, but I find that the more I engage, the more energy I have," Gonzalez said. "For example, after the football season finished this year, I played for the Men's Lacrosse team. I'd never played lacrosse before and I was excited to learn alongside my friends – and you better believe when I scored my first goal, the whole football team was in the crowd going wild. Getting involved has made my college experience special and helped me find friendships that will last a lifetime." 
Anthony also excels in the classroom, having just completed his Biology Capstone Research Proposal on the expression of a protein within the eye, under hyperglycemic conditions. Much of his research work during his time at Clarke focused on eye cells and laid a foundation that can help him achieve his goals. After spending some time getting work experience in Dubuque, he plans to enlist in the Navy followed by medical school to become a plastic surgeon. 
While Anthony's time at Clarke is ending, his determination to serve as a role model continues to grow. This includes his family and friends back home in San Diego, California. 
"I'm one of nine kids and the first in my family to go to college. I've worked hard to set a foundation," Anthony said. "I have a brother who is in high school now and I want him and his friends to see that this can happen for them. I tell the younger students here too, 'Keep trying. The work will be recognized, it will pay off.'" 
For Anthony, that recognition came when he earned the Francis J. O'Connor award, Clarke's highest student honor. Voted on by the faculty and senior class, the award honors outstanding scholarship, cooperation, generosity in service, and leadership. While he said he was be proud to be recognized, Anthony is also celebrating the many friends he made along the way.
I've always been independent but coming to Clarke I learned there is a lot I can't do alone. We all have a 'supporting cast' in our lives and through my involvement I've been lucky to gather an amazing group around me, and I hope I offer the same to others."
"As I think about graduation, a saying comes to mind: you should always leave a place better than you found it. I've always believed this, but Clarke really brought it home for me. Obviously, Clarke has a long history and that sense of community was always there. I like to think that I was able to contribute and make it a more fun and welcoming place for this generation of students, and I intend to keep developing those connections as an alumnus."