Clarke Celebrates 178th Commencement
By Clarke News | May 7, 2022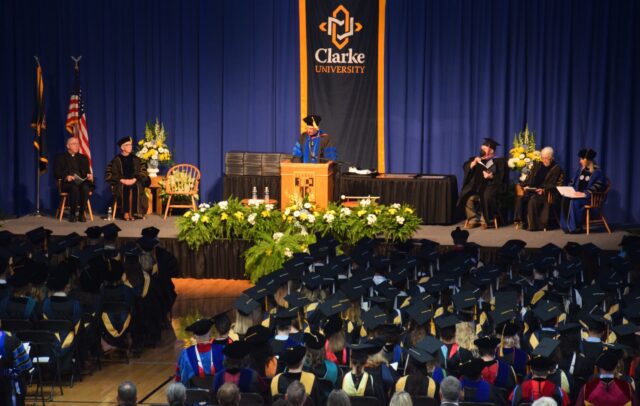 Clarke University held its 178th commencement ceremony on May 14, 2022, at 2 p.m. in the Robert and Ruth Kehl Center on campus.  
The ceremony honored 223 bachelors, masters and doctorate degree candidates for their achievements in front of honored guests, faculty, staff, classmates and family members.  
This year's valedictorian, Sr. Thuy Vy Tran, addressed the audience at the ceremony. Vy came to America from the Vietnamese Dominican Sisters and studied English for a year with the Sinsinawa Dominican Sisters before attending Clarke. She graduated with a double major in Psychology and Religious Studies and a minor in Philosophy. 
The value of a Clarke education, I believe, is not only to increase one's intelligence but to open one's heart," Vy said. "As one of my professors taught us, and now I repeat, 'I will probably not remember all that I have learned, but I will remember those with whom I have worked.'
Teri Hadro, BVM was also recognized as part of this year's ceremony with an honorary doctorate from Clarke University. Hadro has dedicated her life to the values of the BVM sisters and these have guided her work as an educator and health care professional. For over 20 years she worked as a genetic counselor at hospitals throughout Illinois, specializing in children and families facing life-threatening diseases. She also served on the Clarke Board of Trustees from 2012-2021 and on the BVM leadership team in several roles, including Regional Representative from 2000-2006, Vice President from 2008-2012, and President from 2012-2021.  
Special awards were also bestowed at Commencement, including the Francis J. O'Connor Memorial Award. The most prestigious award given to a graduating senior, Biology major Anthony Gonzalez earned this year's award based on his demonstration of leadership, cooperation, generosity, kindness, and academic achievement. Additionally, the Meneve Dunham Award for Excellence in Teaching, the university's highest award for outstanding teaching, was given to Dr. Sunil Malapati of the Chemistry Department.  
Prior to commencement, Clarke's graduation candidates and their guests took part in a Baccalaureate Mass and Hooding Ceremony at 10 a.m. in the Robert and Ruth Kehl Center, followed by brunch in the Dining Hall.  
To learn more about commencement at Clarke, visit https://clarke.edu/intranet-current-students/commencement, or follow us on Facebook, Instagram, Twitter, or LinkedIn.