Clarke Graphic Design and Biochemistry Students Collaborate with 7 Hills Brewing Company
By Clarke News | September 25, 2019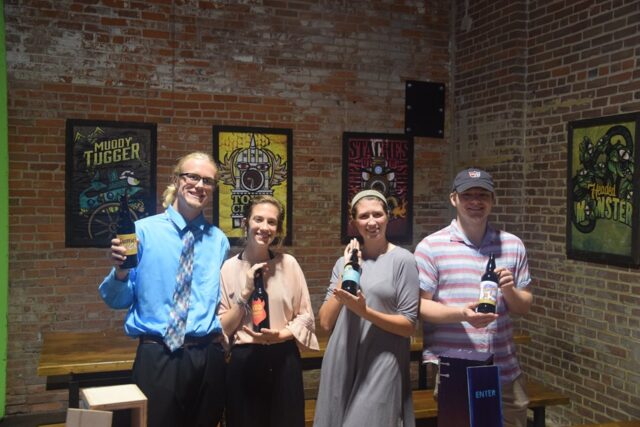 As part of an ongoing collaboration with 7 Hills Brewing Company, Clarke Graphic Design students presented their branding concepts for a Clarke-themed beer that will be served at an alumni event Homecoming weekend. Find out the winner at our Homecoming event at 7 Hills Brewing Company Event Center (1098 Jackson Street) this Friday, September 27 from 6-10 pm.
What makes this event so special? Clarke University and 7 Hills Brewing Co. have collaborated to create a Clarke-branded brew that will be served to accompany unique culinary delights developed by Clarke's Biochemistry and Food Science students. Graphic Design students submitted work to the owner of 7 Hills, alumnus Keith Guiterrez '03, along with members of his creative staff, for review as part of a class competition. In addition to naming and branding their beer and creating a label for the large bomber beer bottle, they created coasters, a pint glass, a decorative box, table tents, and other unique extras. Beer names included Sister Encoded, Bad Habits, Cuttie's Kick, and Eliza Kelly Delinquents. The winning campaign will be showcased and served at Friday's event. There will be live entertainment, appetizers, and beverages.
Clarke Associate Professor of Graphic Design Eric Wold said, "The whole idea behind the project is to collaborate, between Clarke's Graphic Design and Biochemistry students in partnership with 7 Hills Brewing Company. It truly is an effort that required a lot of juggling to make all the elements come together. We wanted to unveil the winning beer at the alumni event to embody Clarke's heritage through the spirit of our treasured alumni. This particular beer is a honey gold wild ale, part of 7 Hills' Foeder Series, and it has been fermented in oak barrels for one year."
Guiterrez said, "I would like to complement all the students who presented and were part of this project. It's not easy to turn around a full rebrand of a product in a week, and these students presented very professionally, with solid persuasive arguments for each of their brands. Each brand had something the stood out, from fun pop culture, to brilliant word-smithing, to consistent branding, to a cartoon, graffiti vibe which appeals to the micro beer connoisseurs."
Admission to Friday's event is complimentary for Clarke faculty and staff. Guests are $10/person.
Register to attend, or for more information, email alumnirelations@clarke.edu or call 563-588-6323.