Clarke Launches New Bachelor's Degree Program: Digital Media Studies
By Clarke News | November 22, 2019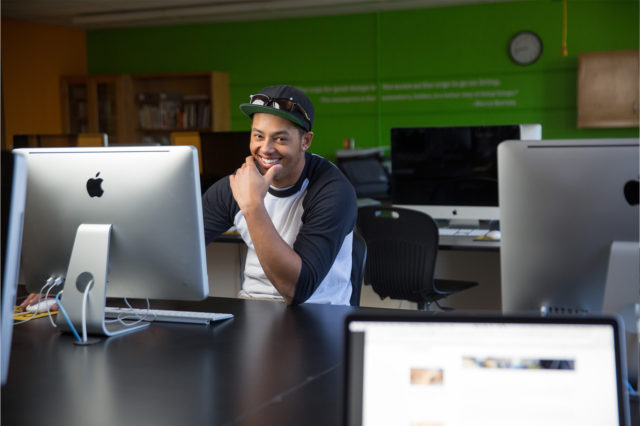 Clarke University is excited to announce a new undergraduate program, Digitial Media Studies. (DMS).
The new DMS major seeks to advance expertise in a rapidly growing field. Students concentrate their studies in emphasis areas of web design, front-end coding (HTML/CSS/Javascript), interactive media, and computer programming. This unique interdisciplinary program incorporates coursework from the Computer Science, Art + Design, and Communication departments.
Clarke alumnus Nick Becker '18 shared, "I think the strength of the program is that it provides you with the opportunity to learn interactive animation, which is  especially relevant to web development. Modern web development is more than designing a web page; you are designing an experience, and an interaction with a user, much like a conversation."
Digital media has become the new standard literacy of the 21st century. The DMS program emphasizes paid internships and other integrative learning experiences to help reinforce professional application of knowledge and strengthen a network of future employers. These experiences give Clarke graduates a competitive edge in the field.
"One of the strengths of this program is that it allows students to personalize their educational experience and focus on ways they want to express their ideas. Students can change the world, not just sell it," said Associate Professor of Graphic Design Eric Wold.
Students majoring in DMS develop skills with both Macintosh and Windows-based computer platforms. Upon graduation, students are prepared to enter careers in web design, web development, mobile app development, digital marketing, digital content creation, and interactive animation. According to the U.S. Department of Labor, employment of web developers is projected to grow 13 percent from 2018 to 2028, much faster than the national average growth of other fields. Demand is driven by the growing popularity of mobile devices, digital marketing, and eCommerce solutions.
"Digital Media Studies is the integration of Clarke's computer science and graphic design programs. It takes the fundamental backbone structure of building a website and merges that with the front-end user experience," said Assistant Professor of Computer Science Joshua Moris.
Digital Media Studies students learn web page design, creative content development (images, ads, audio/video, and animations), and web development through the use of emerging web technologies. Students develop technical expertise, aesthetic sensitivity, and the ability to construct on-screen interfaces for mobile applications and websites.
For more information, please contact the Clarke University Admissions Office at admissions@clarke.edu