Clarke Physical Therapy Students Seeking Donations for Wheels for the World
By Clarke News | October 22, 2020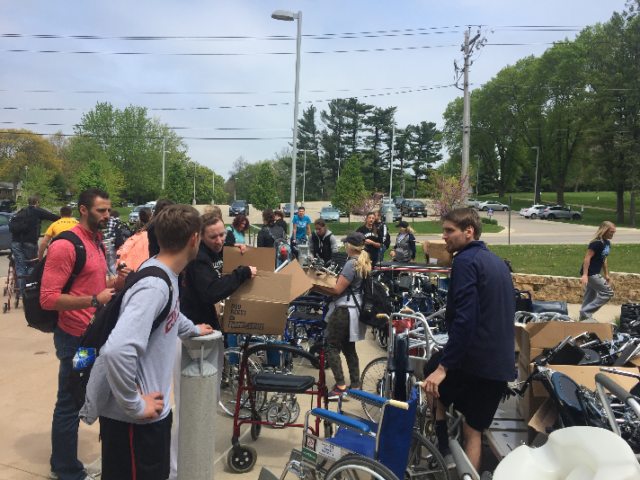 The Clarke University Organization of Student Physical Therapists (COSPT) is again seeking donations of used or broken wheelchairs, walkers, crutches, or canes.
COSPT will collect assistive devices from 8 a.m. to noon on Saturday, October 31, at the main entrance of the Marie Miske Center for Science Inquiry on the Clarke campus. If unable to donate that day, please call (563) 588-6382 to make arrangements to drop items off in the Physical Therapy office in the main lobby of Catherine Byrne Hall.
The items will be donated to Wheels for the World, a non-profit organization that refurbishes the devices and sends them to countries without access to such devices. Wheels for the World collects the items that are refurbished by inmates at a correctional facility in Kansas. The wheelchairs are then shipped worldwide where teams of physical or occupational therapists, wheelchair mechanics, and others assist with distribution. The gift of a wheelchair or other assistive device can transform the life of a person with a disability.
Former Chair and Professor of Physical Therapy Bill O'Dell said, "Clarke's Physical Therapy department has been involved in this charity for more than 13 years, and it has always been a great success. Our best year, we donated 530 wheelchairs in addition to walkers and crutches. These assistive devices have gone to many far-reaching areas including Central America, Africa, and Haiti."
DPT student Aidan Philpot shared, "Wheels for the World provides a tangible way to make a difference by collecting assistive devices and donating them to be refurbished, and eventually given to people who otherwise may not have access to them. It is a great opportunity for students to get involved in a service that benefits people who we may never have the privilege of meeting or interacting with otherwise. I am proud to be involved in the planning and collection of assistive devices through Wheels for the World."