Louise Kames's "I Don't See Anything That Isn't Beautiful" exhibition comes to Clarke
By Clarke News | November 2, 2021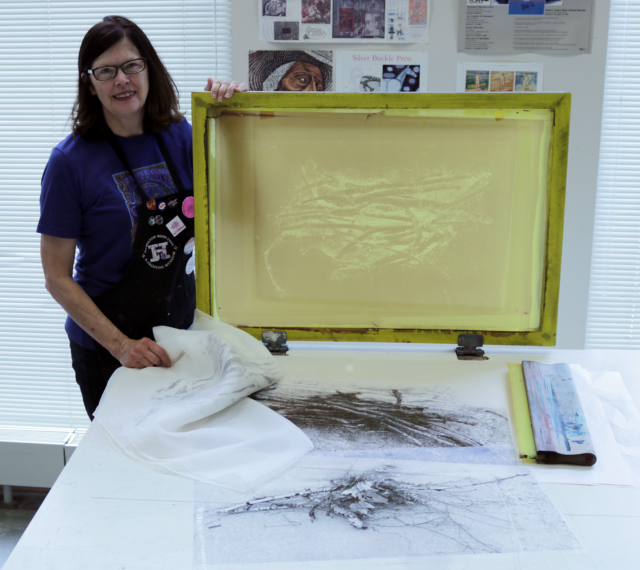 Louise Kames, Professor of Art + Design at Clarke University, will exhibit a new body of work at Clarke's Quigley Gallery, from Wednesday, November 10 through Sunday, December 12. An artist's reception will be held on Sunday, November 21 from 2 – 4 p.m.
The inspiration for the exhibit titled, "I Don't See Anything That's Not Beautiful," developed over two years as Kames photographed small piles of sticks and leaves placed near a driveway at Mt. Carmel by a BVM Sister who was experiencing beginning signs of dementia. The exhibit was finalized during a sabbatical in the spring of 2021. In her conversations with the Sister, Kames discovered the aim in this gathering ritual was to beautify the landscape and to calm her mind.
Kames's exhibit was inspired by this activity and takes three forms, each referencing the sticks: a series of pastel/charcoal drawings, screenprints on 10' silk organza veils, and photographs transferred to pages of a prayerbook. The serial format of each work suggests the personal diminishment one experiences with advancing dementia. The title, "I Don't See Anything That's Not Beautiful," comes from a conversation with Sister.
The "I Don't See Anything That's Not Beautiful: Veils" was included in the 2021 Dubuque Museum of Art Biennial Juried Exhibition and awarded the purchase prize.
Kames holds a BA degree from Clarke University, an MA in Art History from the University of Illinois and an MFA degree in Printmaking from the University of Wisconsin-Madison. The Iowa Arts Council selected her as one of five artists to receive an Iowa Arts Fellowship in 2021, which provides funding and professional development opportunities to advance the artist's career.
In addition to the "I Don't See Anything That's Not Beautiful" series, the Quigley Gallery will feature Kames's pastel drawings of organic forms. The Quigley Gallery is open Monday through Friday from noon-5 p.m. and Saturday and Sunday from 1-5 p.m.