The Story of Clarke's Tuckpointers: Long Ago, Yesterday, and Tomorrow
By Clarke News | August 5, 2020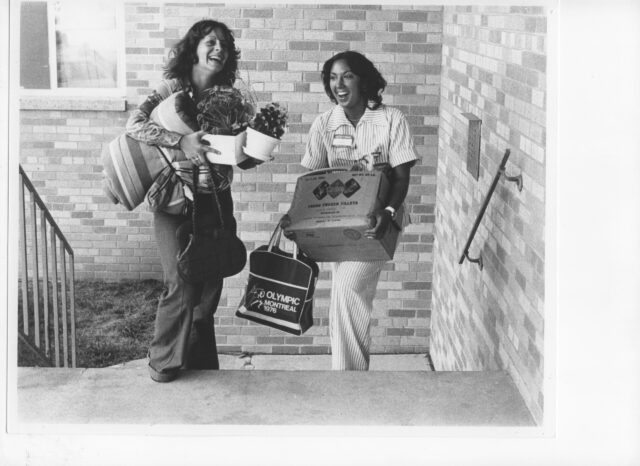 The Clarke University Tuckpointers charter group began their work with the freshman class in the summer of 1949, though their practices date back to the 1920s. By profession, Tuckpointers place new mortar between old and old, or old and new bricks. Their job is to cement the old and the new, and the new and the new. The goal of Tuckpointing is to carefully build and strengthen an old or new building so that it will stand the test of time.
Using the title "Tuckpointer" capsulizes the job of building enduring relationships between old and new students at Clarke, as well as between the students and the college. This is an obvious analogy when the present Clarke student understands the actual process of Tuckpointing. Long ago, one of the tasks initially included in the Tuckpointer's job description was to send handwritten letters to the new student during the summer preceding the freshman's (or transfer student's) arrival in the fall. Today, that communication looks more like an email or a text.
Fifty-six students are selected each year to serve as Tuckpointers to assist new students and families as they transition to life at Clarke. They lead new students through Clarke's four-day student orientation called CONNECT. They serve as peer leaders and mentors and help the new students adjust to college and to Clarke.
Alex Kurauskas '16 said, "I really enjoyed the CONNECT orientation process as a freshman. It helped me meet new people and settle in. After a few years of being involved with various Clarke activities, I decided to be a Tuckpointer. I made great friends with the incoming students and with other students and faculty involved with the orientation process. I enjoyed showing others what a great place Clarke was and hoped others would have the same experience! One of my favorite memories about CONNECT was the scavenger photo challenge. My first year's group was very creative with the photos we had to take. It really enabled us to bond as a group."
Tuckpointers engage new students in activities and conversations that help teach the importance of the Clarke core values of freedom, charity, education, and justice. They also learn about Clarke's services and programs, meet with faculty advisors, and have fun through a variety of social activities. Families are invited to join at the beginning of the orientation to learn about services and programs and have opportunities to meet faculty, administrators, and staff.
Every August, new students and their families flood Clarke Drive and arrive at their new home on campus. The move-in experience has changed a bit through the years, and this year will be no different as Clarkies safely navigate the realities associated with COVID-19. This year, athletes will arrive on campus in early August during assigned 30-minute check-in times. Masks or face coverings are required, and each student is only allowed two guests to accompany them. All residence halls rooms will be single occupancy and no one will have a roommate. In addition, students are not allowed to visit in each others' rooms.
Kerry (Rogan) Kuhlow '71 volunteered to be a Tuckpointer during her time at Clarke. She said, "It was so much fun. My 'Tuckie,' Mary Ann Gennetti '72 and I exchanged quite a few letters over the summer … what to bring (massive supply of feminine products) and what not to bring (an iron as there was always one around). When we met, I felt like I had known her forever. We kept in touch for a few years, but she passed away at a young age. I also interacted with other girls from my class. These women became the most important part of this life of mine. We religiously attend reunions … 50 years next year! The list of things I brought to campus in 1967 looked a little different than today: a drying rack, albums, typewriter (not electric), mattress pad, lots of dresses and skirts (no slacks or jeans, then) dress gloves, chapel veil, massive amounts of coat hangers and one picture … my then-boyfriend who dumped me early in the first semester!" Kuhlow noted that while at Clarke studying sociology, she had the opportunity to work at the Montessori school at Mt. Carmel under Sister Katherine Reynolds. After graduation, she took the Montessori training course and became a Montessori Directress.
Although the collection of items that students that bring to campus have changed dramatically over the years, the excitement of this day has stayed the same. Last year, a new student might be seen bringing: a flat-screen TV, microwave, mini-fridge, laptop, iPad, comfy chair, lamps, and musical equipment. 2020 looks much the same as last year, with the addition of personal protective gear and digital thermometers.
Director of Engagement and Intercultural Programs Callie Clark said, "During these times of the pandemic, things will be different for Tuckpointers. We count on our Tuckpointers to be true student leaders and positively influence the transition for new students coming to Clarke, and that will not change. Tuckpointers are some of the first people that new students meet, so it's their job is to make their transition/first weekend as smooth as possible with some appropriate fun included. This year, we'll be masked up and practicing social distancing."
Clarke senior Montez Thompson, 2020 CONNECT Coordinator, shared, "This year will look different as we cannot do some of the activities that we normally would, and the ones we can do, we are working on setting them up in the safest/healthiest way possible for students and CONNECT staff. We will be following all-new protocols and physically distancing between one another for the parts of CONNECT that will be in person. We will be having some meals together in subgroups in different locations across campus, but not as a whole unit. Some of the socials will be virtual."
He continued, "My message for all students, returning and new, is that It's going to be okay. This is your second home. We are doing everything in our power to make sure our students, families, faculty, and staff as safe as possible."
Read more information on Tuckpointers and Connect.