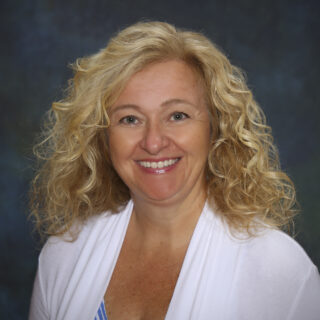 Alecia Thiele, PT, DPT, MSEd, ATC, LAT, DCE
Associate Professor and Director of Clinical Education
---
Educational Background
Clarke University
Doctor of Physical Therapy, Transitional DPT, DPT
2005 – 2006
University of Wisconsin-Platteville
Masters of Science in Education, Education, DPT
1999 – 2001
University of Wisconsin-La Crosse
Bachelor's of Science, Physcial Therapy, BSPT
1987 – 1991
Teaching Philosophy
I believe that the ultimate aim of education is to develop individuals who can grow and adapt to change, can value intellectual, practical and theoretical knowledge, can problem solve, can critically think well enough to make their own individual free choices and can ultimately take responsibility for those choices. I believe that the most important thing in education is not just the intellectual knowledge or specific objectives of education. Rather the most important thing in education is that an individual can react to the knowledge and make it his/her own life lesson. I encourage individuals to critically think in order to be able to make informed, knowledgeable, free and independent choices to solve problems and ethical dilemmas. I feel my role as an instructor is to encourage individuals to become knowledgeable, independent, critical thinking, problem solving professionals. I see my role as a facilitator of critical thinking and discussion. Although I set the general direction for my courses and I supply students with a theoretical framework in which to proceed, I challenge them to invest themselves in the process giving of their time and thought to develop further as young professionals.
Students should choose a college or university where they feel they can best find what they need to meet their future goals. If they want a caring, supportive, dynamic atmosphere they should choose Clarke. I am here for students to support them, challenge them, and to share their journey.
Alecia Thiele
Profile
Alecia's role is to coordinate and manage the clinical education portions of the curriculum. She also spends time in the classroom teaching in the areas of professional development, ethics and educational roles in the profession. She is an APTA member, WPTA member, NATA member, national office holder APTA Education Section, credentialed clinical trainer for the APTA Basic and Advanced Clinical Instructor courses and she continues to practice physical therapy and athletic training in her practice area of sports medicine.
Courses Taught
Issues in Health Care, (DPT 515), 2 credit hours, Fall Semester, 2016
Education and Consulting in Physical Therapy, (DPT 615), 2 credit hours, Fall Semester, 2016
Internship III, (DPT 733), 8 credit hours, Summer Semester, 2016
Internship IV, (DPT 734), 8 credit hours, Spring Semester, 2016
Internship V, (DPT 735), 8 credit hours, Spring Semester, 2016
Graduate Seminar, (DPT 720), 3 credit hours, Spring Semester, 2016
Certifications and Memberships
American Physical Therapy Association
Education Section Secretary/Executive Committee elected term 2011-2013, re-elected term 2013-2015
Education Section Treasurer elected term 2015-2017
Education Section Honors and Awards Committee Member appointed 2011-2015
Education Section Delegate, APTA House of Delegates, 2014, 2015
Education Section Alternate Delegate, APTA House of Delegates, 2016
Education Section Federal Affairs Liaison, 2015, 2016
Clinical Education Special Interest Group Academic Coordinator of Clinical Education/Director of Clinical Education Co-Chair elected term 2006-2008, re-elected term 2008-2010
Clinical Education Special Interest Group Programming Committee Chair
2002, 2003, 2004, 2005, 2006, 2007
Clinical Education Special Interest Group Programming Committee
2000, 2001, 2002, 2003, 2004, 2005, 2006, 2007, 2008, 2009, 2010, 2011, 2012, 2013, 2014, 2015, 2016
Clinical Education Special Interest Group Recording Secretary elected term 2003-2005
Combined Sections Meeting Education Section Abstract Reviewer 2000,2001,2002
Combined Sections Meeting Education Section Proposal Reviewer 2008, 2009, 2010, 2011, 2012, 2013, 2014, 2015, 2016
Session Moderator 2000-present
Annual Conference Proposal Reviewer 2007, 2008, 2009, 2010, 2011, 2012
Clinical Instructor Education Credentialing Board 2008 (alternate to board), 2009 nominee, 2010 nominee
Education Section Academic Administrators Special Interest Group Organizing Committee for Academic Council of Physical Therapy Education Programs (ACAPT) appointee to committee 2008-2010
Appointee to the ACAPT Cultural Transformation in Physical Therapy Education Committee 2011-2015
Publications

James Smith, Alan Lee, Patricia Ohtake, Jacqueline Coffey Scott, Rana Hinman, Naeem Ali, Carl Hinkson, Dale Needham, Lori Shutter, Helene Smith-Gabai, Mary Catherine Spires, Alecia Thiele, Clareen Wiencek. Impairments, activity limitations, and participation restrictions experienced in the first year following a critical illness: a systematic review. PROSPERO 2015:CRD42015023520 Available from:

http://www.crd.york.ac.uk/PROSPERO/display_record.asp?ID=CRD42015023520

Mai J, Stern D, Hollman J, Melzer B, Thiele A, Rosenthal R. Cool as ICE: Examining the Impact of an Integrated Clinical Education Experience on Interpersonal Skills Prior to the First, Full-time Clinical Internship. Journal of Physical Therapy Education. 2014; 28 (3) 81-97.

Thiele A, Mai J, Post S. The Student Centered Classroom of the 21st Century: Integrating Web 2.0 and Other Technology to Actively Engage Students. Journal of Physical Therapy Education. 2014; 28 (1) 80-93.

Mai, J, Thiele, A, O'Dell, B, Priest, A. "Utilization of an Integrated Clinical Experience in a Physical Therapist Education Program" Integrating a Health and Wellness Experience into A Physical Therapy Curriculum, Journal of Physical Therapy Education. 2013; 27 (2) 25-32.

Sass K, Frank L, Thiele A, Newton AD, Bork B, Hartung S, & Rosenbaum M. Physical Therapy Clinical Educators' Perspectives on Students Achieving Entry-Level Clinical Performance. Journal of Physical Therapy Education, Fall, 2011, 25(3):  46-52.

Presentations

Mai J, Thiele, A, Blackinton M, Miller T. Teaching Tips I Can Use On Monday: A Primer on Easy to Integrate Technology. Accepted for Educational Session at the American Physical Therapy Association's Combined Sections Meeting 2017, February 15-18, 2017, San Antonio, TX.

Lee, A, Ohtake, P, Smith, J, Thiele AK. Post-Intensive Care Syndrome: Emerging Perspectives to Improve Patient Care. Accepted for Educational Session at the American Physical Therapy Association's NEXT 2016 Conference, June 8-12, 2016, Nashville, TN.

Lee, A, Ohtake, P, Smith, J, Thiele AK. Post-Intensive Care Syndrome (PICS) Across the Continuum of Care. Educational Session at American Physical Therapy Association's Combined Sections Meeting. February 5, 2015, Indianapolis, IN.

Thiele AK, Mai JA, Post S. Technology Smorgasbord! Practical Application of Technology into a Traditional Physical Therapist Education Program. Poster Presentation Accepted at the American Physical Therapy Association's Combined Sections Meeting. February 4-6, 2014, Las Vegas, NV.

Matson J, Mai JA, Thiele AH, Kuhle M. How to Add SPICE to Your Curriculum: Development of a Student-Pediatric Integrated Clinical Experience, Poster Presentation Accepted at the American Physical Therapy Association's Combined Sections Meeting. January 21-24, 2013, San Diego, CA.

Research Interests

Post-Intensive Care Syndrome (PICS) Clinical Practice Guidelines development group contributor.

Manuscript Reviewer, summer 2013-current, Journal of Physical Therapy Education.

Matson J, Mai JA, Thiele AH, Kuhle M. How to Add SPICE to Your Curriculum: Development of a Student-Pediatric Integrated Clinical Experience, Poster Presentation Accepted at the American Physical Therapy Association's Combined Sections Meeting. San Diego, CA. (January 21-24, 2013), preparation of manuscript in process.

Mai JA, Matson J, Vaassen MM, Thiele AH, Priest A.  NeuroEx: Building Patient Care Skills in the Academic Neuromuscular Sequence, Poster Presentation at the American Physical Therapy Association's Combined Sections Meeting.  Chicago, IL (February 8-11, 2012), preparation of manuscript in process.

Thiele A, Mai J. Technology Smorgasbord. Assess implementation of innovative collaborative Technologies in the Classroom 2014; submit abstract for national PT conference 2015-2016; development of manuscript 2016-2017