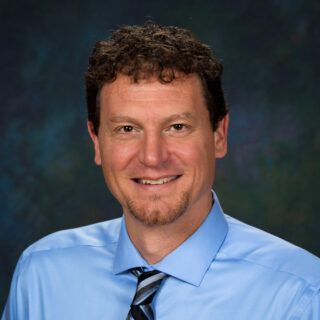 Brad Kruse, DPT, Ed.D.
Chair and Associate Professor of Physical Therapy
---
Educational Background
BS in Athletic Training, South Dakota State University, Brookings, SD 1995
Master of Physical Therapy, St. Ambrose University, Davenport, IA 1998
Doctor of Physical Therapy, Clarke University, Dubuque, IA 2007
Teaching Philosophy
I strive to provide students with opportunities to learn and to grow in an environment that engages them in activities that are hands on and relevant to contemporary physical therapy practice.
"If you want to build a ship, don't drum up the men to gather wood, divide the work and give orders. Instead, teach them to yearn for the vast and endless sea." Antoine de St. Exupery
Brad Kruse
Profile
Professional Background
Brad is an assistant professor, teaching in the areas of Orthopedics, Therapeutic Exercise, Primary Care, Biomechanics and Sports Medicine and serving as an academic advisor. He has worked in outpatient orthopedic and sports physical therapy since 1998 and continues to practice at a local clinic.
Research Interests
Sports injury and rehabilitation
Spine injury rehabilitation
Neuroscience education related to pain in orthopedic conditions
Patient motivation and compliance with exercise
Courses Taught
DPT 514 Functional Anatomy and Biomechanics
DPT 528 Therapeutic Exercise
DPT 614 and 624 Musculoskeletal PT I & II
DPT 710 Sports Medicine in PT
DPT 712 Primary Care
Certifications and Memberships
Dr. Kruse has been awarded certification as a clinical specialist in Sports Physical Therapist (SCS) from the American Board of Physical Therapy Specialties.  Additionally, he is a Certified Strength and Conditioning Specialist (CSCS) through the National Strength and Conditioning Association and is certified in Mechanical Diagnosis and Therapy from the McKenzie Institute USA (Cert. MDT) and a certified practitioner in dry needling (Cert. DN). As an active member of the profession, he is a member of the American Physical Therapy Association and has held leadership positions within the Iowa Physical Therapy Association.
Additional Information
Brad is active with the Boy Scouts, serving as an assistant Scout Master for BSA Troop 94 in Dubuque.  He is also a youth basketball coach.