Psychiatric Mental Health Nurse Practitioner
Enhance your community-based practice by becoming a psychiatric mental health nurse practitioner
Advance your skills and promote mental health and wellness in adolescents and adults as a Psychiatric Mental Health Nurse Practitioner (PMHNP). With a full-degree or a certificate-only option for working NPs, this program prepares you to assess, diagnose, and offer mental health care to individuals and families alike.   
This flexible, hybrid program offers a combination of online coursework, clinical rotations, and campus visits.
The required visits to campus for the full degree are as follows: 
Year 1 – Four times on campus
Year 2 – Two times on campus 
Year 3 – Two times on campus    
While your time on site is limited, we make the most of it with our exceptional facilities, including a Simulation Lab that replicates hospital and clinical experiences. Classes are limited to 20 students, ensuring you get the one-on-one attention and support from faculty that Clarke is known for. Add to this the passion of our educators – all working DNPs themselves – and your time on campus promises to be some of the most challenging and enlightening experiences of the program.  
Through this work, you will explore many aspects of mental health care, like symptom management; psychotherapeutic treatment modalities; psychopharmacology; and more. These skills can translate to private practice, modern clinical work, community mental health centers, or the advocacy and research of mental health as part of the public health field.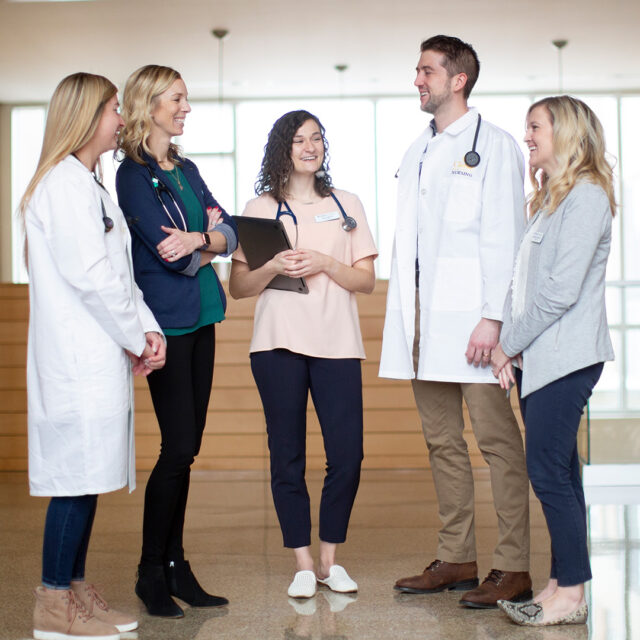 DNP-PMHNP details
81 credits

Three years full-time

Five years part-time

Only 8 campus visit required!

1000 clinical hours
Post-graduate certificate option
 for NPs already certified in another specialty:
18 credits
Fully online – no campus visits required!
500 clinical hours