Our alumni know firsthand how Clarke can transform a person's life and their future. Each year, Clarke alumni make a generous and meaningful investment in the lives of today's students. In addition to the important role these philanthropic dollars play, Clarke's alumni participation rate is considered equally vital for the institution as a whole.
Alumni participation = The percentage of active alumni giving to Clarke each year.
Clarke's alumni participation rate is a visible and measurable indicator of our alumni's satisfaction with the University. The participation rate is used in a number of ways to determine everything from grant awards to national collegiate rankings.
Why give?
Equality: Clarke University was founded on the belief that every qualified student should have the resources and support to pursue a Clarke education. Your gift allows us to create opportunities for deserving students from all backgrounds.
Empowerment: Members of the Clarke community live out the core values of education, freedom, charity, and justice. The Clarke Compass is our signature general education program which is rooted in the liberal arts. It recognizes the efforts of the whole person through a rigorous academic experience custom designed by students and their advisors that is centered on coursework and other hands-on experiences inside and outside of the classroom.
Excellence: Donor support funds new and existing programs, equipment, facility upgrades, and research opportunities.
How can you contribute?
Every gift makes a difference in the lives of our students and campus community. Make a gift online today. Gifts are also accepted through Venmo by searching @ClarkeUniversity using the Venmo app or through the QR code below.
Your gift could also be maximized through a matching gift. Click here to see if your employer is eligible to double your contribution and make twice the impact for the Clarke community.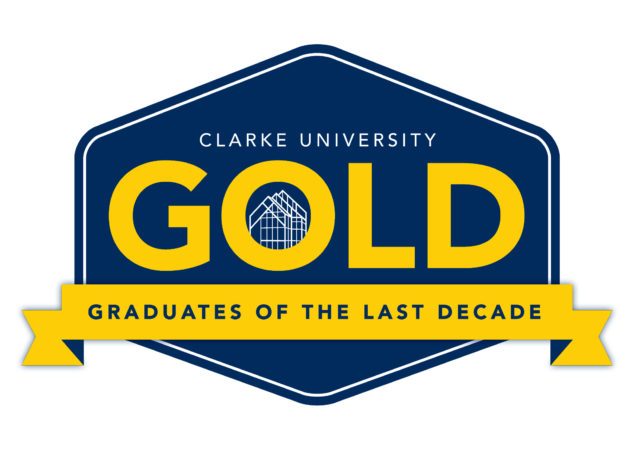 GOLD: Graduates of the Last Decade
You have earned a degree from Clarke in the past 10 years, making you a Graduate of the Last Decade (GOLD). As a group, you represent 15% of all Clarke alumni worldwide and you continuously make us proud through your professional and personal accomplishments.
As students you've experienced life-changing opportunities – from professional internships, to international excursions and meaningful relationships faculty members. Help ensure today's students have access to these same great opportunities by giving back your time, treasure or talent to the Clarke Fund or area on campus that means most to you.
Clarke graduates who have completed their undergraduate studies within the past five years are recognized as Founders' Society members for gifts of $250 or more annually. Similarly, graduates within six to ten years are recognized as members for gifts of $500 or more annually.
Contact Courtney Leonard at (563)588-6585 for all the ways to get involved.
Keep in Touch!
We invite you to stay in touch with us! Visit the Clarke Alumni webpages for ways to connect with fellow alumni and friends.
Update your Contact Information
If we have your email and your street address, you'll get invitations to special events in your area, announcements, news updates and the annual summer Clarke Magazine. You should also be receiving our monthly Alumni & Friends e-newsletter via email. If you're not receiving these publications, please update your contact information.
Share your Joy
Your life is full of amazing happenings – and we love to share in your joy. Submit an online class note highlighting your personal and professional accomplishments.
Stay Connected on Social Media
Please connect with us online on Facebook and LinkedIn. These are the best resources for networking, keeping up with other alumni, and staying current on Clarke news and events.
Alumni Events
Clarke organizes a variety of in-person and virtual events for alumni and friends near and far. All are great fun and a terrific way to stay connected and meet other alumni in your community. We also invite you to come back to campus for Homecoming each fall to reconnect with your classmates and build new memories with Clarkies from across the country.
Volunteer Opportunities
Become a Clarke volunteer by joining the Alumni Association Board, referring a prospective student through our CARE Society, hosting a special event in your area, helping at Homecoming or becoming as a class representative. Complete our online volunteer form or email alumnirelations@clarke.edu for additional information.