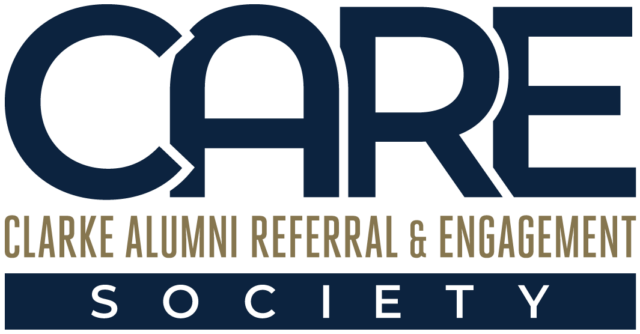 Growing the Clarke Community

Do you wish to share the gift of a Clarke education with someone you know?
The CARE Society offers a unique opportunity for alumni to introduce prospective students to Clarke University. And, in three simple steps, a prospective student can receive a $1,000 renewable CARE Society Scholarship.
An alumna/us completes the student referral form.
The student successfully applies to Clarke University.
The student enrolls and receives the $1,000 CARE Society Scholarship for up to 4 years of enrollment! Students enrolled in the CareerPLUS Bachelor of Applied Studies (BAS) degree program will receive a renewable scholarship of $50 per semester.
What to expect after your student referral is made:
One of our friendly Admissions Counselors will reach out to the student to share they were referred to Clarke by an alumna/us, describe the CARE Society Scholarship, and encourage them to visit campus. The student will also begin receiving our informational materials.
The Alumni Relations Office will welcome you to the CARE Society. As a CARE Society member, we encourage you to talk with the prospective student about your Clarke experience, encourage them to visit campus, and ultimately apply!
Please note that students are not eligible for both the CARE Society Scholarship in combination with the Legacy Grant and/or the Business & Community Partnership discount. 
In recognition of the significant difference you are making, CARE Society members also receive:
A CARE Society notepad.
Annual recognition as a CARE Society member at Clarke University.
Special recognition at Homecoming and other on-campus events.
Exclusive discounts on CareerPLUS programming and micro-courses. Email careerplus@clarke.edu for more information.
The satisfaction of knowing you are positively changing someone's life by introducing them to Clarke!

Questions?
For more information or questions about the CARE Society, please contact the Alumni Office at alumnirelations@clarke.edu.
Assist our Students
In the spirit of One Clarke, One Community, we would appreciate the support of our Alumni network in ensuring our current students can receive as much assistance as possible in landing their first job.
If you are aware of an entry level job or internship opportunity for which you could serve as a contact person or could offer other advice and resources for students, review our Business and Community Partnerships page. Here you can post jobs, share job shadow availability and so much more.
Help welcome this next generation into the Clarke University Alumni Association and showcase the power of One Clarke, One Community!