Campus Ministry Mission Trips and Activities Support Spiritual Life at Clarke
By Clarke News | April 15, 2022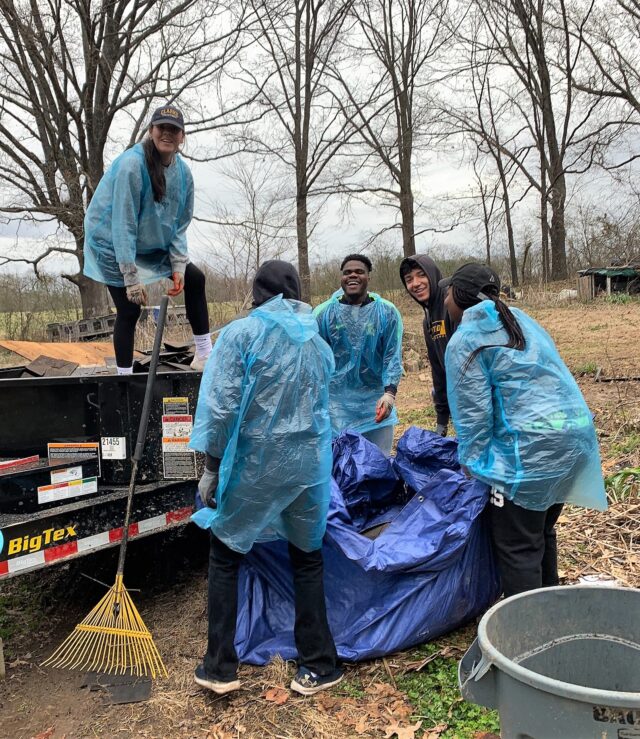 The Campus Ministry team works hard throughout the year to promote a faith and values–based experience for students and employees, and the Lenten season is a powerful time to deepen these connections and practices.   
Alongside daily Mass, midday prayer, and other offerings, a unique feature for this year's Lenten journey was the Discussions and Desserts Series. These gatherings allowed students to meet in the Foley Lounge for snacks and have a casual yet engaging conversation on unique questions and experiences related to their faith.  
Preparations for Holy Week brought together these thought-provoking discussions with interactive activities like Living Stations of the Cross, Palm Sunday Mass, Living Last Supper presentations in Galena and Dubuque, and more. Several students even volunteered to spend their Spring Break on a service trip to Walls, Mississippi to assist with construction projects as residents continue to recover from a major tornado in 2020.  
"Getting to take these students on a service trip was an incredible experience. I got to watch their faith and compassion grow. They have become active members of our campus ministry community and have begun planning ideas for upcoming trips," said McKenna Smith, Assistant Director of Campus Ministry. "My students continually make me proud with how willing they are to do things for others and go outside of their comfort zones. From going to a bilingual Mass, to roofing a house, and working together, I think they proved to themselves that they are far more capable than they had given themselves credit for." 
Campus Ministry also supports students that practice other faiths, as well as guiding students in learning about and appreciating faiths outside their own experiences. This includes education on Ramadan, the Muslim month of fasting, which begins May 2. From dawn until dusk each day, Muslims fast and dedicate time to prayer and introspection. Clarke is proud to offer support, advocacy, and accommodations to Muslim students through Campus Ministry and the Culture & Inclusion Office. 
To learn more about Campus Ministry events happening throughout the year, visit https://clarke.edu/campus-life/spiritual-life/campus-ministry/