Clarke Enhances Academic Advising Services
By Clarke News | July 11, 2023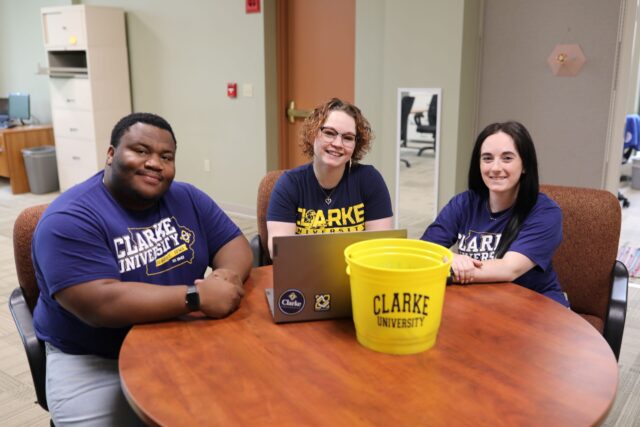 Clarke University is excited to expand its academic advising for all students for the 2023-2024 academic year. This new initiative will expand upon existing advising services offered by Clarke faculty, with a focus on the first-year experience.  
The team consists of full-time Director of Advising Heidi Rhinehart '09 and Academic Advisor Morgan Heidenreich '24M. They are joined by Ron Jones '22, '23M, who splits his time as an Academic Advisor and the Internship Coordinator for Clarke's Career Services Office.  
Each first-year student will be assigned an advisor who will check-in with them regularly over the course of the school year to discuss everything from course schedules to the overall college experience. The schedule and approach of these check-ins will be personalized to each student, and drop-in appointments are always welcomed.  
"If your assigned advisor isn't in the office, you will still meet with someone. We will never turn someone away," Heidi said. "Our approach to advising considers the whole student and ensures they have what they need to succeed – academically, personally, and professionally. We are a support network for all aspects of life at Clarke." 
"We're creating a space where students can come and hang out, talk to us or connect with each other," Morgan added. "We have workspaces, extra school supplies, and a CUpboard with food and snacks for students. This is a student space, and we want them to feel at home here, whether they have an appointment or just want to chat with someone." 
While establishing their physical space, the team has also been hard at work developing resources and tools for students. This has involved collaboration across many areas of Clarke, such as academic departments, The Margaret Mann Academic Resource Center, athletics, and even groups in the Dubuque community. Although they are titled "academic" advisors, the team emphasized that they want to be prepared to answer any questions a student may have.  
I moved to Dubuque from Missouri and had no connections in the area. I wasn't just learning how to be a college student, I had to figure out where to go for haircuts, get groceries, all that stuff. When I was a senior and in my graduate program, I really felt like a big brother to all the students at Clarke and shared what I'd learned. I think God saw that and brought me to this role. Now I can be that person I wish I'd had as a first-year student.
Ron Jones '22, '23M, Academic Advisor and Internship Coordinator
Once a student has completed their first year at Clarke, they will be assigned to a faculty member to offer more specific guidance related to their intended major, however the Academic Advising team will always be a resource to students.  
"Our goal is to make sure every student has a solid, consistent experience that prepares them to succeed," Heidi said. "We are your dedicated support network throughout your time at Clarke and beyond."