Clarke University Receives Support for Library Courier Service
By Clarke News | September 3, 2019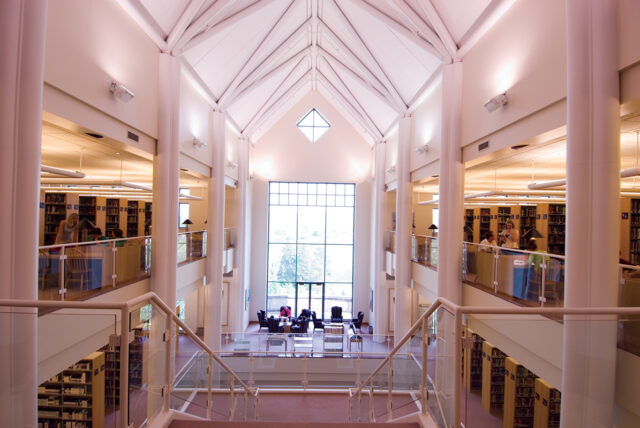 Clarke University's Nicholas J. Schrup Library was awarded a one-year courier service grant to increase the accessibility of materials available to Clarke students from other libraries in the Midwest. The Clarke learning community will benefit from even greater access to educational resources while the grant runs through August 31, 2020. This service is in addition to the current library loan partnership between Clarke and Loras College. This expanded courier service will allow for interlibrary loans as far south as Missouri. The courier service will not only increase available options, but also the speed at which the items are received. The courier service will also allow books to be couriered back and forth between Loras and Clarke on a more regular basis.
The Academic Delivery Service Grant is supported by the Institute of Museum and Library Services under the provisions of the Library Services and Technology Act as administered by the State Library of Iowa. The State Library of Iowa awarded grants to qualifying academic libraries to partner with the existing Iowa Academic Library Alliance (IALA), a network of Iowa academic libraries that currently contract with Mobius for courier service.
Clarke's Library Director Sue Leibold said, "This grant provides the Clarke community with a great opportunity to more easily and economically share library resources. Interlibrary loan has always been an important library service for faculty, students, and staff, and the courier service broadens our access to resources. It is also a greener alternative. The courier service utilizes reusable bags, thus cutting down on padded envelopes and packaging materials. It is a win-win for libraries and their patrons."
Clarke University and Loras College libraries have been working hard to coordinate their  services and programs. This is a unique partnership that allows students to use the collections at both libraries, receive assistance at either library in person or online, and gain access to the database collections of both libraries. Clarke is proud to be an active partner in teaching, learning, and scholarship for students, faculty, and community members and is grateful for the additional support provided by the library courier service grant.