Colts Continue Strong Partnership With Clarke University & Medical Associates
By Clarke News | January 22, 2019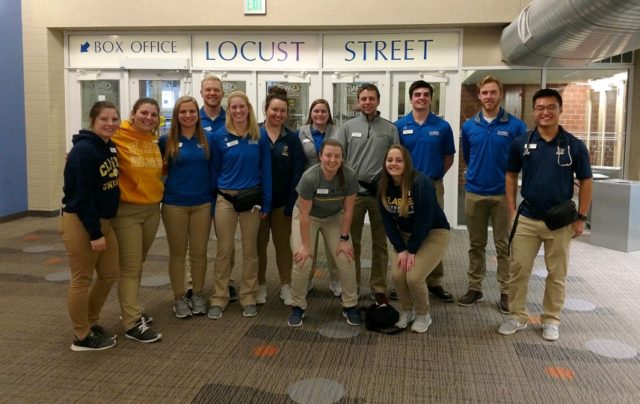 Author: Jason Schubert, Colts Director of Operations & Media
A few snowflakes were starting to fall outside on Friday night, January 18th, as students finished unloading the equipment trailer. Inside Five Flags Center, the main lobby was packed with students and parents checking in for the rehearsal weekend on one end, and athletic training students from Clarke University on the other. The athletic training students gathered together to go over a few last minute details with Dee Higgins, Ph.D., director of the Clarke University Athletic Training Program, before splitting up and making themselves available for Colts students. Now in its sixth year, this unique partnership with Clarke University allows Colts students the opportunity to have a full orthopedic and flexibility screening prior to the season, while also providing valuable hands-on experience for the students from Clarke.
The Colts Drum & Bugle Corps is a world-renowned marching arts ensemble that competes each summer on the Drum Corps International summer tour. The group was founded in 1963, sponsored by American Legion Post #6 in Dubuque, and has performed each year as part of Drum Corps International since its inception in 1972. The group attracts the best and brightest marching arts performers from all over the country, and oftentimes overseas, to try and earn one of the 154 positions in the corps each season. The average age of the students is just over 19, and each can only perform until "aging out" of the group at age 21. The Colts have been named by former Iowa Governors Terry Branstad and Chet Culver as "Iowa's Ambassadors of Music."
"The orthopedic and flexibility screenings we're able to provide for the Colts can do so much to help their members have a successful season," said Dr. Higgins. "Having the opportunity to sit with someone trained in athletic training and a greater understanding of how the body works in sports allows them to ask questions and receive feedback they may not get otherwise. For Clarke students, it's great exposure to the marching arts, while also providing them hands-on experience that is so crucial for future professionals in the athletic training field."
Also on site Friday night was Steven Rock, MD, a member of Medical Associates Orthopedic & Sports Medicine department. Dr. Rock is the forefront expert on concussions in the performing arts and works closely with Athletes and the Arts (www.athletesandthearts.com) to bring the world of marching arts and sports medicine together. In collaboration with Athletes and the Arts, Dr. Rock recently wrote a chapter in "Performing Arts Medicine" by Dr. Lauren E. Elson (Elsevier Publishers) titled, Care of the Marching Musician.
"We've learned that about 80% of physical issues which may arise during a drum corps season are pre-exisiting conditions we can address readily and safely this time of year," said Dr. Rock. "By providing the Colts this one-on-one time with athletic trainers, we are able to identify potential issues with the time to react and assure a successful season. This gives everyone time to create plans for issues that may arise over the season, allowing the student to arrive at move ins as prepared and healthy as possible."
Dr. Higgins and Dr. Rock have been involved with the Colts organization since 2009, providing resources, feedback, and ideas to the Colts and Colt Cadets students and staff on a wide variety of scenarios that may arise in a drum corps season. In 2016, Colts added an athletic trainer to the tour staff, and in 2017 Colt Cadets added a health and wellness coordinator to the tour staff. These staff members, along with Colts Director Vicki MacFarlane and Colt Cadets Director Andrew Eaton, communicate regularly with Dr. Rock and Dr. Higgins about the various needs of students while on tour.
In 2014, the Colts received a grant from Medical Associates to fund a three-year medical research project to study the effects of the drum corps activity on students. This study provided information on the physical demands students experience during a season of drum corps, allowing Dr. Rock and Dr. Higgins to target their efforts to where students need them most. This study also heightened the Colts awareness of the caloric intake of students, leading to a restructuring of the food program for both corps to help provide sufficient calories to stay healthy throughout a drum corps season. (Read an archived article about the Medical Associates Foundation grant.
"Our partnership with Dr. Rock and Dr. Higgins has been a game-changer for the experience of our members," said Vicki MacFarlane. "It's taken several seasons to build the level of awareness and trust we have, but we are very proud of where we are as an organization now. Seeing firsthand the success stories of our students who have finished their seasons has been wonderful. Everything is a work in progress, and our ultimate goal is to just be better today than the we were the day before."
Last September, Dr. Rock and Dr. Higgins presented to all World Class drum corps directors at the annual Drum Corps International September meetings in Phoenix, Arizona. Their presentation and discussions with the voting membership helped lay the groundwork for the recent Here's to Our Health: Drum Corps International's 2019 Annual Meetings and Activity-Wide Health, Wellness & Safety Summit that took place in January in Indianapolis, Indiana.
In April, when the Colts color guard and percussion students from Texas join the corps in Dubuque, Dr. Higgins, Dr. Rock, and the Clarke University athletic training students will again be on site to provide orthopedic and flexibility screenings for those Colts students who were unable to attend in January.
Returning for her second year as athletic trainer for the Colts will be Jennifer Pohlman, LAT, ATC. Jen is a graduate of Clarke University and helped with several years of Colts orthopedic screenings before signing on for a full season with the corps. "My first season as athletic trainer with the Colts was a phenomenal experience," said Jen. "Being able to graduate and then jump right into my profession, while still working closely with Dr. Higgins, has given me such a strong foundation. Every day brought something new while on tour, but all the students and staff were so fun and easy going, and it made my job so enjoyable. I'm very excited to be back in 2019 with the corps."
"We love being able to showcase the strong medical and athletic training communities we have in Dubuque," said Colts Executive Director Jeff MacFarlane. "At our rehearsal weekends, we welcome parents and students from around the country, and even overseas, so having all our guests see first-hand the connectivity we have to the greater Dubuque community no doubt benefits the Colts, but also shines a light on Clarke University and Medical Associates. We've had Colts or Colt Cadets alumni who have been, or currently are, students with Dr. Higgins so seeing them interact with the organization in a new way has brought a new perspective to the Colts, as well as the classroom at Clarke. Working with Medical Associates, especially through the grant we received from them in 2014, has allowed us to really standardize and formalize a lot of what we do at the Colts, while also providing data and information to their doctors on this unique athletic and performing arts activity."