Computer Science Courses Support Regional Businesses
By Clarke News | January 12, 2023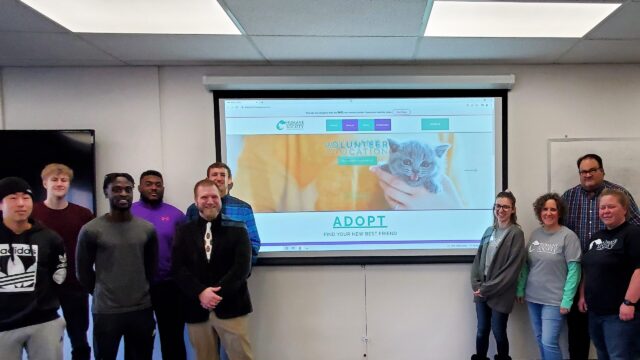 Fall 2022 marked the return of the Computer Science major at Clarke University. For Assistant Professor of Computer Science Josh Moris, he wanted that return to have an impact not just on the students at Clarke, but throughout the region. 
Josh teaches several of the upper-level courses in the Computer Science program. While theory plays an important role in those courses, Josh puts an emphasis on hands-on experiences.  
"Sometimes when you are designing a system or a website or whatever it may be, the best way to learn is to start building," said Josh. "If we are able to create opportunities for students to foster their technical skills while also benefitting the community, that makes the lessons all the more impactful." 
With the help of Becky Herrig '84M, '16 MOL, Director of Career Services at Clarke, Josh was able to connect with several businesses looking for help with different areas of technology. One of the first to sign on was the Dubuque Regional Humane Society (DRHS).  
Originally, the DRHS had been seeking help with creating and storing training videos for incoming staff and volunteers, but as the group worked with Josh, larger issues with the website became apparent. 
"Our early conversations focused on updating just one small section of the site for volunteers, but as they shared their frustrations with updating other parts of their website, we realized that was the project," said Josh. "The students were then tasked with redesigning a full website, as well as a mobile version." 
Tyson Tucker, a senior in Computer Science, served as the project lead for the team working on the DRHS web redesign. He and his classmates met with DRHS staff throughout the semester to design and test various versions and features of the website. This included everything from updating images and text to automating the DRHS calendar and testing the site for compliance with the Americans with Disabilities Act.  
"Our goal was to simplify and streamline the Dubuque Regional Humane Society site so that it was much more user-friendly," Tyson said. "We also wanted it to be easier for the DRHS staff to update and maintain, so we created a platform that was simple and easy to follow. We met with the staff throughout the semester and will continue to support them with any training or questions they need after launching." 
"It was a real trial by fire. The DRHS was counting on us; we had deadlines and responsibilities," Tyson said. "You have to really commit yourself to learning because it's not just a hypothetical in the classroom, it's real people and businesses."
The team presented their final design in December 2022 to DRHS staff, including Executive Director Noelle Chesney. The team not only updated the site, but then provided a brief tutorial on how the staff can build on the foundation the students created.  
We are extremely grateful for the expertise and knowledge of Josh and the students at Clarke. This partnership created a unique opportunity for a collaboration that benefitted both groups, and we can now serve our community more efficiently, thanks to the wonderful students at Clarke." 
Noelle Chesney, Executive Director Dubuque Regional Humane Society
DRHS is not the only organization to benefit from Computer Science expertise. Josh aligned another course, Computer Science 480 – Advanced Topics, with a project he found through the Student Opportunity Center, an organization that pairs businesses and organizations with higher education institutions around the country. The Clarke students met virtually with the Donaldson Company of Bloomington, Minnesota, who specialize in engine and industrial air, oil, and liquid filtration solutions. The group was then tasked with generating artificial intelligence (AI) or "deep fake" images for Donaldson's research and development team. 
For this project, inspiration was drawn from our own App and Support Specialist, Paige Hahn '22. She introduced Josh to MidJourney, an AI program, which guided in-class discussions regarding AI-generated imagery. Assistant Professor of Mathematics O'Neill Kingston provided resources on stable diffusion, which helped the team discover open-source opportunities that could complete the project. 
"Ultimately, senior Alexander Schaad found a viable open-source tool called Dreambooth which allowed us to generate deepfake Scanning Electron Microscope (SEM) images," Josh said. "We even had some fun with the tool as we attempted to create self-portraits in various mediums. I even took images of our mascot Cuttie and placed him into a Marvel comic."
Senior Computer Science major Anthony Hughes was able to work on both the DRHS and Donaldson Company projects. For him, these business and nonprofit collaborations are some of the highlights of the semester. 
"A project like this takes your classwork and makes it relatable to the working world," Anthony said. "You're developing concepts for real people who are counting on you. One of the most important lessons with that is that you will make mistakes along the way, but you can ask for help, recover quickly, and be better for it. That's when the real learning happens, when you put the skills into practice."