Gitau guides peace initiatives and conflict resolution through Carnegie African Diaspora Fellowship
By Clarke News | October 5, 2021
This summer, Dr. Mary Gitau, Associate Professor of Social Work at Clarke University, helped establish the Center for Conflict Transformation and Peace Building Initiatives at Kisii University in Kenya, as part of the Carnegie African Diaspora Fellowship Program (CADFP). This is the second fellowship Gitau has earned through the program and continues the work she started in 2018.  
Gitau formed a partnership with Professor Herman Kiriama at Kisii University to develop a center that provides resources, support, and guidance for conflict resolution in the counties neighboring the university. While Gitau had laid much of the groundwork for the center with her first fellowship, this 90-day program was focused on helping establish the center and offering initial workshops and trainings to the community. 
It took a 10-person team from different disciplines across the university to imagine this center, each offering their own expertise and perspective," Gitau said. "Consider a border dispute – there are geographical implications, political science implications, and even social work issues. By working together through the Center for Conflict Transformation and Peace Building, we can address these concerns in a more comprehensive way.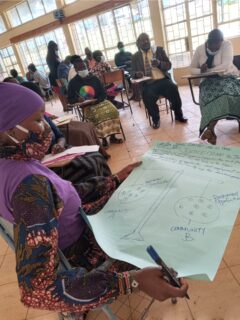 Some of the center's first offerings included six two-day conferences that brought together over 150 people at various levels of local leadership. The first session invited grassroot community members like motorcycle taxi drivers and women from open-air market, and youths to share their experience. The next focused on community leaders who included chiefs, and assistant chiefs, civic and faith-based organizations and a third session included elected and appointed government officials. The workshops supplied space for dialogue, as well as tools and resources that can help address conflicts happening in the attendees' communities.
Each conference included different activities such as application of system theory in conflict and peace building where participants passed a ball of string to one another, with each member holding on to show how different services and populations are intertwined. Once everyone was connected, Gitau showed the group how conflict can damage these relationships.   
"Every time a conflict was not addressed, I cut one of the strings. I said to them, 'this is your community on the floor, broken,'" Gitau said. "We underestimate our power to give back to our community, to make our administrations listen. We cannot avoid conflict if we wish to grow together but we have to devise ways for conflict resolution and peace building."  
Although she has returned to the states, Gitau's collaboration with Kenyan professionals continue. Not only is she supplying support and guidance as the center works through the final stages of approval from university governance, Gitau is also helping plan the International Social Work Education Conference hosted by the Association of Social Work Educators in Kenya.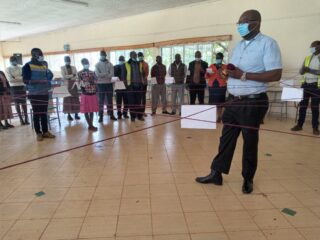 "This is the first international conference for social work in Kenya and I am honored to represent Clarke University as a part of it," Gitau said. "My participation in international programs like the CADFP and this conference presents not only opportunities for me, but for my students and the university community. When we see the world outside ourselves, we grow as individuals while advancing Clarke's commitment to social justice, social responsibility, and global awareness." 
Gitau shares her international experience with undergraduate social work students as well as those enrolled in the Master of Social Work program. She has also led several study abroad trips to Kenya, with the next one scheduled for January 2023. 
About the Carnegie African Diaspora Fellowship Program 
CADFP, now in its seventh year, is designed to increase Africa's brain circulation, build capacity at the host institutions, and develop long-term, mutually-beneficial collaborations between universities in Africa and universities in the United States and Canada. It is funded by Carnegie Corporation of New York and managed by the Institute of International Education (IIE) in collaboration with United States International University-Africa (USIU-Africa) in Nairobi, Kenya, which coordinates the activities of the Advisory Council. A total of 527 African Diaspora Fellowships have been awarded for scholars to travel to Africa since the program's start in 2013.