In Loving Memory of Jack Maurer '02: The Jack Maurer Scholarship Award
By Clarke News | September 14, 2020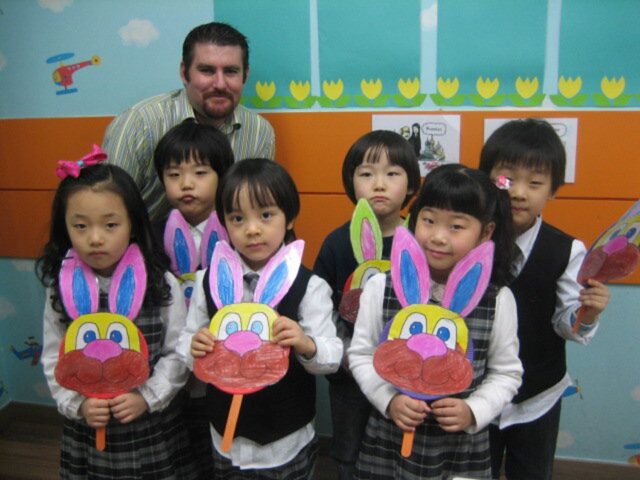 Terri Evett, Robert "Jack" Maurer's mother, said, "Jack was very outgoing, athletic, had a wry sense of humor, a great smile, and was fiercely competitive. He loved his friends and family, the color orange, and the Chicago Cubs, Bears, and Bulls. His greatest passion, though, was sailing on the ocean."
During his time at Clarke, Maurer was a member of the baseball team, worked on campus during the summer, and was a familiar face to many. Maurer was an excellent teammate and a good friend. In February of 2011, Jack unexpectedly passed away in an accident while teaching in Ansan, South Korea. To celebrate his memory, a Clarke scholarship fund was created to benefit future Clarke students. This month, in honor of what would have been Maurer's 40th birthday, Clarke would like to tell Maurer's story and the evolvement of the scholarship.
The scholarship idea came from Jack's friends Blake Bradley '02 and Justin Wenzelman '02, '04M.
Bradley said, "Jack passed away in February of 2011, and we decided to do something to honor his memory almost immediately. Justin is the one who called me in the early morning that February day and told me that Jack had passed away. I remember sitting in my classroom all day in disbelief. Jack's death hit me very hard. He was one of the best people I have ever known."
Intent on pursuing the memorial scholarship for his friend, Bradley came back to Dubuque and met with Andy Schroeder '02, who was a development officer at Clarke at that time. Together, with Maurer's mother and aunt, they came up with a plan for the Jack Maurer Memorial Scholarship Award and golf outing. At first, they had very modest expectations. Maurer was not local–he was from Idaho–so they really didn't know how much local support they would receive.
Bradley said, "The amount of support we have received has been above and beyond what we expected. When we first began, we figured we would have four or so golfers. The first year we had 36 golfers. It has been unreal. Our scholarship balance has given us endowment status so the scholarship is forever."
Bradley shared, "Clarke was a big deal for me. I moved to the Midwest from California, met my future wife, and ended up living back here. I'm still here. My experience was shaped by the people that I met, and Jack was someone who was important to me. I'm proud and honored that we have created a lasting legacy in his name."
He continued, "I remember when my Dad and I pulled onto the Clarke campus for the first time in my Mom's minivan, we parked in the soccer field parking lot. There was a kid out there chalking the lines, and his name was Jack Maurer. He came over and introduced himself and asked if we needed any help. Jack was also a tremendous athlete. In his first at bat for Clarke, he hit a home run. Jack was also a wonderful golfer. We played together often. Jack would show up with three crappy golf balls in his pocket, get a set of rental clubs, and proceed to shoot par. No glove, no tees, with junk balls and junk equipment. No problem for him. Coach Davidson put him on the golf roster just in case there was a chance he could get away from baseball and play golf at some point. Davidson called him, 'the best golfer at Clarke.'
Wenzelman said, "Jack and I lived together for a few months over one of the summers when we stayed in Dubuque. It was great to get to spend time with him, and there were countless late-nights playing video games and sitting up talking. Jack was a great person to hang out with and was always available when you needed him. He was just a really good person that left us too soon. Clarke definitely shaped me into who I am today. I loved my time at Clarke and in Dubuque and am still living here today."
Evett said that Jack was very excited about being recruited to play baseball at Clarke. He had some trepidation about moving so far away from home because his younger sister had just passed away, but Jack was always up for new adventures. He arrived at Clarke and immediately found a brotherhood in the baseball team and a sense of community within the student body. The environment and people at Clarke helped him to begin the healing process and he thrived during his time at the university.
Evett continued, "Jack was very appreciative of the opportunity to attend Clarke and play baseball for the University. Although he had dreamed of playing professional baseball, he also wanted to be a teacher. The education he received at Clarke offered him that opportunity, and he was so excited to begin his teaching career in Ansan, South Korea. He loved the children, the culture, and the opportunity to make a difference in his student's lives. As a mother, I am so grateful for the scholarships Jack received from Clarke. He received a wonderful education and was able to fulfill his dream of playing college ball. I am also so overwhelmed by the generosity of Blake and Justin for starting this memorial scholarship in Jack's name and continuing the golf outing yearly. It warms my heart to know that another young man will receive this scholarship each year, helping him to realize his dream of playing baseball at the college level."
The 2020 recipient of the Jack Maurer Scholarship is Nolan Lamere '21. Lamere is a double major in Business and Sports Management, a member of the men's baseball team and the Sports Management Club. He shared, "My Clarke experience so far has been great. The small school atmosphere makes the campus feel like one big family. From meeting Mary Ellen at the front desk to all the staff, professors, and classmates, everyone makes Clarke a home away from home even though my family lives seven hours away. The Jack Maurer Scholarship Award has helped me and my family greatly. It means a lot to me that I can work hard and win a scholarship that can help my family and me  financially. It makes me feel proud of my writing."
For more information about the Jack Maurer Memorial Scholarship Award, or to inquire about any new or existing scholarship or award, contact Angela Ventris at Angela.Ventris@Clarke.edu or 563-588-8137.