Matching Students with the Support They Need
By Clarke News | January 16, 2023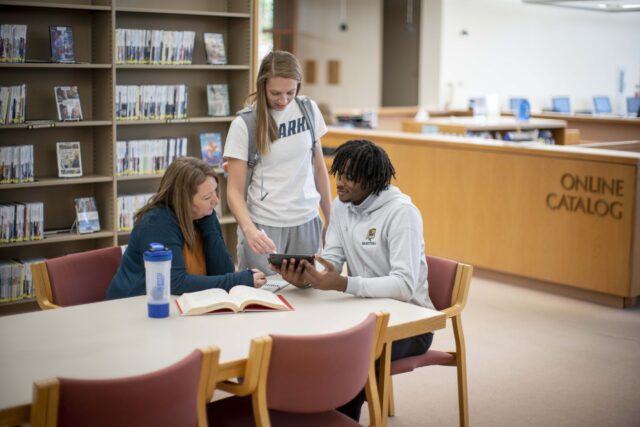 Clarke University is proud to continue updating and expanding our student Support Services and this growth will continue into the spring 2023 semester.  
Many of the services are centralized in the Margaret Mann Academic Resource Center (MARC) located on the 2nd floor of the library. Here, professional staff and student employees offer one-on-one and group study options focused on everything from math and writing to more specific course and major-track academic support, as well as learning accommodation services. 
What makes the MARC unique, however, is the support it provides beyond academics. This includes coaching on things like time management, personal accountability, and other life skills from professional staff, as well as student-to student resources. A prime example is the Peer Mentoring program that was developed in 2021 in collaboration with Engagement and Intercultural Programs.  
With Peer Mentoring, new students to Clarke are partnered with a student mentor who has already navigated both the academic and social aspects of college and can share their experience. Each pair meets once or twice a week over the course of the semester, plus enjoys group events with other students in the program like mentor Charlie Jones '25. 
"I got into the peer mentor program because it is something I felt would've helped me with adjusting to college. I spent my first semester alone, but then I met some great people who are like family to me now," Charlie said. "Since entering the program as a mentor last semester, I have helped others build those relationships sooner. All the mentors and mentees bond over issues we are having in school and our shared interests. I feel I have made more friends due to the program." 
Beyond the MARC, Clarke is also investing in CU Linked, a new program led by the Clarke Social Work department. CU Linked connects students with services for food, housing, health care, transportation and more on and off campus. The program has also been embraced by the greater Dubuque community, receiving grants from the DRA and the Walmart Community Foundation to expand their efforts.  Students can request CU Linked services at linked.clarke.edu.  
Services like the MARC, Peer Mentoring, CU Linked, and University Counseling have become even more important in recent years, as more Clarke students travel greater distances to attend college, creating a physical distance from their existing support network. Hailing from La Feria, Texas, this is something that Darius Hernandez '22 experienced first-hand. After building his own connections on campus, he was inspired to serve as not just a peer mentor, but as a role model to all students on campus. 
"I try to push others – not just my mentee – but all students to take advantage of places like the library, the MARC, even Mary Ellen and people in the Financial Aid Office and Student Accounts," Darius said. "People are always willing to help and students should never feel worried to ask a question. I've worked with four students as a peer mentor now and that's something I will never forget." 
For more information on expanded Support Services including areas like the MARC, University Counseling, Career Services, and more, visit https://clarke.edu/academics/support-services-2/.