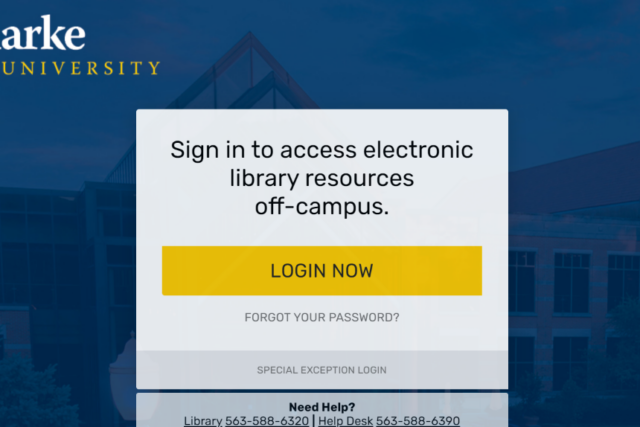 Databases and electronic journals access is restricted to currently enrolled students, or currently employed Clarke faculty and staff. When you access one of these restricted resources from off-campus, you will first need to log in.  Remote access login directions are available below.
Remote Access
Your log in to use the library databases from off campus is the  same log in you use for your email and Moodle, ect. The format for your log in:  firstname_lastname
The password is the same password you use for your email.
Make sure that you have a web browser installed on your computer. We recommend Internet Explorer version 6.0 and higher, or the newest version of Firefox.
Some employer's firewalls make accessing our databases difficult from your work computer.  If you are trying to access our databases from a work computer you may experience problems.
Cookies must be enabled. A "cookie" is a small amount of information that helps a particular site identify you the next time that you visit.  You can disable the cookie feature at the end of your research session.  Consult the online help feature of your browser for assistance in enabling cookies.
Occasionally, some versions of Internet Explorer seem to work better with the login software when the security level within Internet Explorer is lowered. Consult the online help feature of your browser for assistance in setting security levels.
Please use the checklist link below to help us solve your problem fast.