Need More information?
Complete an on-line information request form below for options and available dates.
Request Form
Your event deserves grand spaces, expert planning, and friendly staff. The Clarke University Conference and Event Services Office offers all this and more.
Clarke offers magnificent venues and private meeting rooms for all occasions. From our majestic Wahlert Atrium for wedding receptions, class reunions, proms, or holiday parties, to the Atrium Conference room for business meetings and rehearsal dinners, we can accommodate a wide variety of events.
Great spaces, however, aren't enough. The success of your event depends upon the planning. That's why our expert staff of event planners can help you prepare the perfect event from the very beginning. Our dining services office, led by Chef Miles Breed, is known for preparing some of the best food in the tri-states. They are happy to offer assistance in planning an exquisite meal.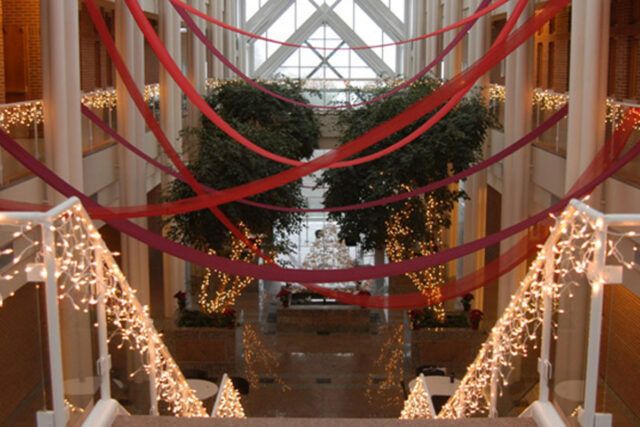 The Wahlert Atrium at Clarke University
Your wedding day is one of the most important days of your life. You want your ceremony to be elegant and beautiful and to invoke memories that will last forever. Likewise, the reception to follow should continue the experience of splendor as your friends and relatives celebrate this special day in your lives. Exceed your expectations as you experience beauty under glass at the Atrium at Clarke.
To ensure your reception is special in every way, our promise is to make your ideas, thoughts, and dreams a reality. Based on what you envision your special day, we will provide our knowledge and expertise to make your dreams come true.
A magical day deserves a magical atmosphere.