Clarke University is a Catholic, co-educational, liberal arts and sciences institution. Founded in 1843 by Mary Frances Clarke, foundress of the Sisters of Charity of the Blessed Virgin Mary (BVM), it is the only BVM university in the United States.
We are a four-year private non-profit institution.
Our 55-acre campus sits on a bluff in a quiet residential area overlooking the city of Dubuque, Iowa (population 58,000), and the Mississippi River.
The average ACT score of the 2020 freshman class is 21, the average SAT score is 1019, and the average high school grade-point-average is 3.47. Due to the COVID-19 pandemic, the 2020-2021 and 2021-2022 academic years will follow the test-optional policy at Clarke University.
Discover Dubuque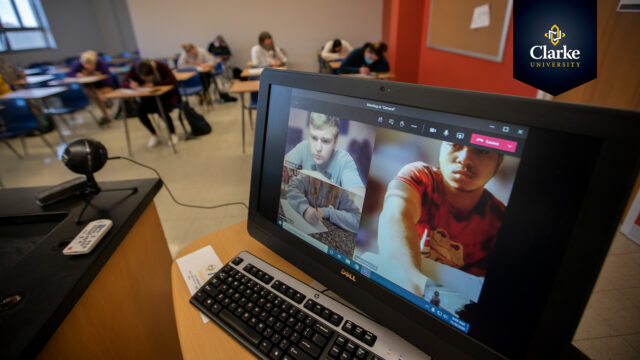 Enrollment
Undergraduate Students: 634
Total Students: 855
Student Profile
Male %: 44
Female %: 56
In-State Students %: 40
Out-of-State %: 60
Retention rate for first time, full-time students: 72%
Data based upon 2020-2021 enrollment snapshot
Athletics
Baseball
Basketball
Bowling
Cross Country
Dance Team
Esports
Football
Golf
Intramural sports
Lacrosse
Soccer
Softball
Track and Field
Volleyball
The Clarke Pride competes in the National Association of Intercollegiate Athletics and is a member of the Heart of America Athletic Conference.
Clarke is recognized as a NAIA Champions of Character Five-Star Institution.
Tuition/Fees/Room/Board
For the 2020-21 academic year, undergraduate tuition is $34,650, student fees are $1,100, and the average cost for room and board is $10,200. Graduate tuition varies by program. View the Tuition & Fees page for more information.
Financial Assistance
During the 2019-20 academic year, 100 percent of Clarke's full-time, day-time students (who were eligible, and applied) received financial aid in the form of scholarships, grants, loans, and work-study. Clarke's average financial aid package is $27,000. Students are encouraged to apply for financial aid as soon as possible after October 1.
Scholarships
Clarke University offers a variety of merit scholarships to students that include academic, athletic talent, fine arts, and other scholarships.
Recognition
Clarke University is consistently recognized for excellence in education. Here is a list of national recognition:
U.S. News: Ranked 62nd in Top Performers on Social Mobility in 2022
U.S. News: Ranked 239th in Best National Universities in 2022
PLEXUSS 2021 Global Rankings

# 1 Best Faith-Based College or University in Iowa
# 5 Best in Iowa Offering Psychology Programs
# 12 Best in Iowa Offering Nursing Programs

RegisteredNursing.org: #5 in the nation for 2019 Best Doctor of Nursing Practice (DNP) programs
Princeton Review: Best Midwestern Colleges
NAIA Champions of Character Five-Star Designation for 10 consecutive years
National Arbor Day Foundation: Tree Campus USA
Non-Discrimination
Clarke University does not discriminate on the basis of gender, sex, race, color, national or ethnic origin, sexual orientation, age or disability in the educational programs which it conducts or in its employment policies, practices and procedures. Clarke University complies with all pertinent state and federal regulations concerning affirmative action, nondiscrimination, and equal employment opportunity.
For more information, contact the Clarke University Admissions Office:
Phone: (563)588-6316
Fax: (563)584-8666
E-mail: admissions@clarke.edu
Student Achievements
Clarke University students and alumni demonstrate success in numerous ways. Our students garner academic awards from the university, receive scholarships and secure internships. Our alumni go on to earn advanced degrees at Clarke and at other prestigious universities throughout the U.S. and the world. They achieve professional success in a variety of occupations and make their mark at corporations, in government agencies and at various other organizations in a vast number of fields.
The information listed below demonstrates both short-term and long-term achievements of Clarke University students and alumni:
Graduation Rates
Four-year graduation rate – 48%
Six-year graduation rate – 65%
Licensure Rates
First-time pass rates for the following programs are:
Athletic Training
2019 graduating class overall pass rate is 87.5% (7/8) at this time
3 year aggregate (2019, 2018, 2017) aggregate 1st time pass rate of 77.4% (24/31) and the overall pass rate is 93.54% (29/31) at this time.
Nursing
Family Nurse Practitioner – 100%
NCLEX – 92.31%
Physical Therapy
98.2% Pass Rate
Social Work
Outcomes