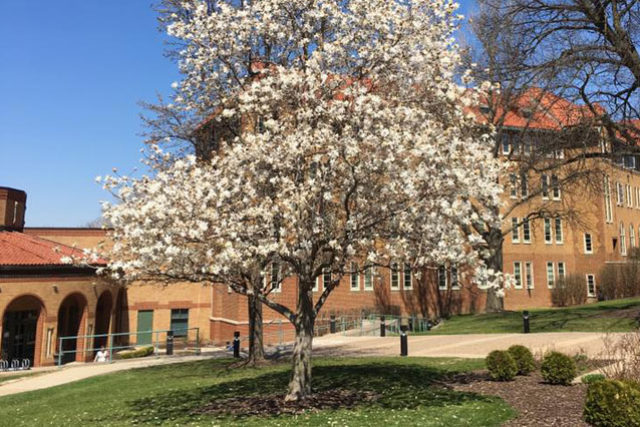 Clarke University was recently designated a Tree Campus by the Arbor Day Foundation. As a tree campus, the university will do the following: plant at least 6 trees a year, have a budget dedicated to tree care and maintenance, complete service learning projects related to trees, commemorate Arbor Day annually, forgo cutting down trees unless strictly necessary, and institute a tree advisory council and tree care plan.
Clarke University Tree Care Plan (2011)
The purpose of the Clarke University Tree Care Plan is to enhance the beauty of the campus by planting, protecting and preserving trees. It is also the purpose of the plan to aid in the creation of sacred campus spaces through the preservation of our historic trees and by encouraging community members to celebrate among our trees.
The primary responsibility for adhering to the tree care plan will fall with the Director of Facilities Management. However, when contemplating the removal of any living tree, the entire Campus Tree Advisory Council along with the President of the University, shall vote unanimously to remove the tree. Removal of a living tree is only a last resort when relocation is impossible because of the size of the tree, the cost associated thereof, or the general health of the tree.
Prohibited Practices
No historic tree shall be removed as the result of construction projects or changes in the landscape. Rather, the planning and design of any facility shall take into account the preservation of historic trees.
During construction, no excavation work shall take place within the drip line of a tree.
During construction, the area within the drip line of a tree shall not be used for storage of equipment or material when compaction of the soil could result in damage to the tree.
During construction, the area within the drip line of a tree shall not be used for the storage of any hazardous chemical.
No tree shall be topped.