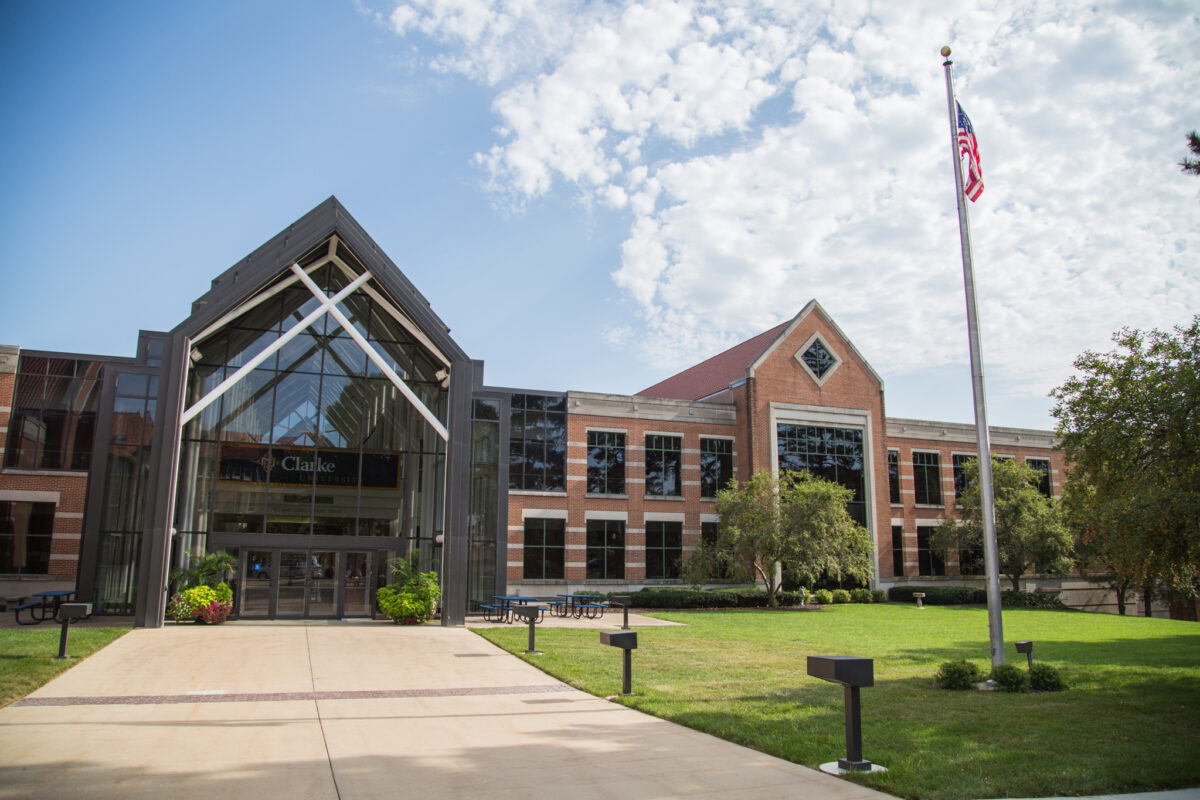 See and feel our campus virtually! Watch this quick four-minute video that walks you through our charming campus, historic buildings, and state-of-the-art learning facilities.
R.C. and Celeste Wahlert Atrium
This glass struture is the heart of campus, where students socialize, study, laugh, snack, and relax. This building connects this this side of campus from residence halls to classrooms to faculty offices to the dining hall.
Nicholas J. Schrup Library
All of your research needs are behind these doors. Also houses Compass and Career Services.
Jansen Music Hall
The majority of concerts and recitals are held in Jansen Music Hall, located in the R.C. and Celeste Wahlert Atrium. Jansen Hall's acoustics are ideal for musical performances. Capacity is 240, with descending seating and a balcony.
Sacred Heart Chapel
Enjoy this stunning and peaceful area where students gather to pray, meditate, sing, and give thanks.
Keller Computer Center
Come here for technology. Computers, printers, and helpful, knowledgeable people. Bonus: You can have MS Office installed for FREE!
Eliza Kelly Hall
Home to our fine arts programs. Student artwork is displayed throughout. Find private music rooms for practicing equipped with pianos or drums, and a full art studio.
Catherine Byrne Hall
Discover modern classrooms, full graphic design laboratory, art studio, and musical practice rooms.
Marie Miske Center for Science Inquiry
The newest building on campus, this state-of-the-art building houses classrooms, chemistry laboratories, computer labs, and nursing simulation lab.
Burrows Field & A.Y. McDonald Athletic & Recreation Field
Burrow's Field is a turfed practice field adjacent to the A.Y. McDonald Athletic & Recreation Field on top of the hill. The field is used by all athletic teams and many non-athletes as well, for practice, competition, and recreation.
Mary Frances Hall
This is our coed upperclassmen residence hall with single rooms. Women and men are separated by floors. Each hall is equipped with a full kitchen, computer lab, and laundry room.
Robert and Ruth Kehl Center
This facility includes a physical activity center, three regulation playing floors, gymnasium, extensive weight room, walking track, racquetball court, and locker rooms.
Student Activity Center
Here is a fun spot to hang out, play pool or darts, socialize, have lunch at Café 1843, and study. Also where you'll find Whitlow Campus Store and the mail station.
Terence Donaghoe Hall Theatre
This eclectic building is furnished with a full stage theater for drama productions and presentations.
Catherine Dunn Apartments
The apartments are available to sophomores, juniors, and seniors and are outfitted with full kitchens and bathrooms, and private, secure bedrooms.
Mary Benedict Hall
This is our secure freshmen female residency hall where students share a room with two beds and a sink. Students can hang out on the newly renovated rooftop deck or in the Lion's Den, which offers a foosball table, pool table, televisions, and a deck for grilling.
Mary Josita Hall
This hall offers secure freshmen male dorm rooms.
Student Dining Hall
Located in Mary Josita Hall, here you will eat! Multiple delicious main hot entrees, full salad bar, and an ice cream machine.
Jack and Rosemary Gantz Athletic Practice Center
This off campus facility serves as a training center for athletes to practice.
Athletes who are interested in playing at Clarke will enjoy this next video. In two minutes you can see the future field or court that you will be playing on!
Robert and Ruth Kehl Center
Basketball, Volleyball
Dalzell Field
Football, Track & Field
Wahlert Throwing Area
Track & Field
Veterans Memorial Park
Softball
A.J. Spiegel Park
Baseball
Burrows Field & A.Y. McDonald Athletic & Recreation Field
Lacrosse, Soccer
Jack and Rosemary Gantz Athletic Practice Center
Practice Facility for all sports
Dubuque, Iowa
Cross Country
Eagle Ridge Resort
Golf
Cherry Lanes
Bowling
Winnie & Conrad Lee Strength & Conditioning Center
Strength and conditioning center for all athletes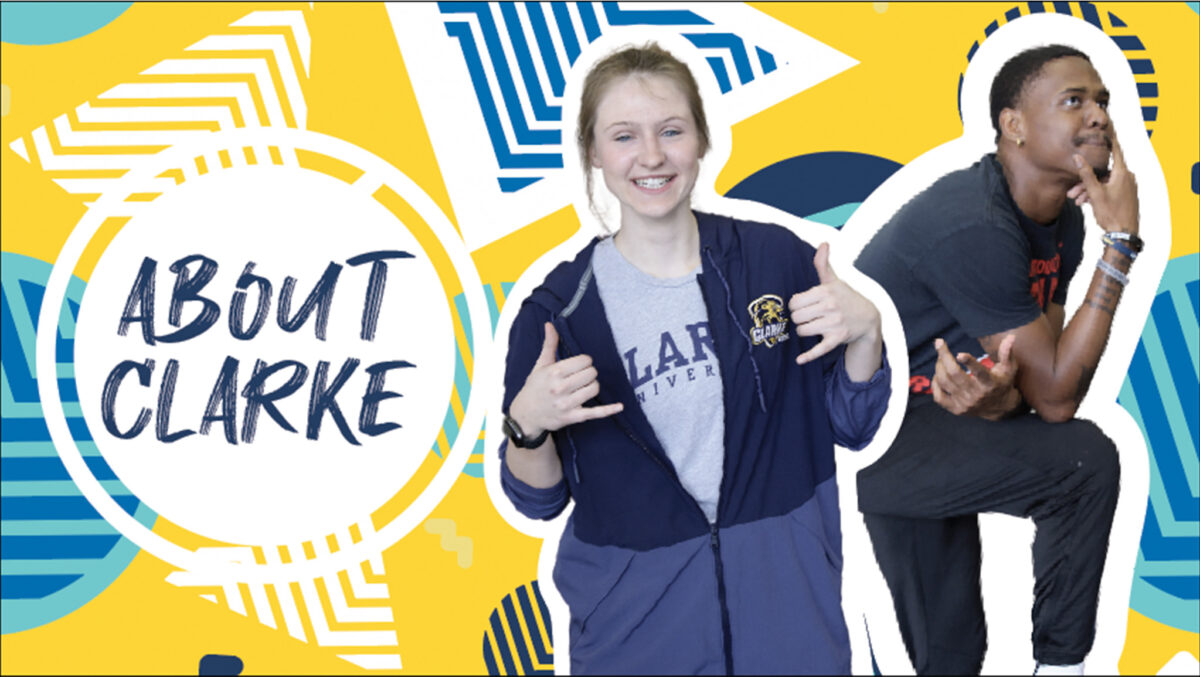 Clarke is small but mighty! Watch to learn about the heart of Clarke's campus and the strong sense of community among our students, staff, and faculty. This is your new home away from home.
| | | |
| --- | --- | --- |
| Founding of the University | Student home states | Dubuque, Iowa |
| Our majors and minors | Athletic teams | Financial aid |
| Residence halls | Student to faculty ratio | Graduation reports |
Travel down Clarke Drive with us and watch our campus change with the seasons, from fall colors to winter snow to spring flowers and summer sun. Every season is beautiful on the campus of Clarke University.
Entrance to Clarke
Fall
Winter
Catherine Dunn Apartments
Winter
Spring
Mary Benedict Hall
Spring
Mary Josita Hall
Spring
Terence Donaghoe Hall Theatre
Spring
Robert and Ruth Kehl Center
Spring
R.C. and Celeste Wahlert Atrium
Summer
Mary Francis Hall
Fall
Winter
Eliza Kelly Hall
Winter
Spring
Catherine Byrne Hall
Spring
Marie Miske Center for Science Inquiry
Spring