Current military and veterans who come to Clarke will feel at home among the faculty, staff and their fellow classmates. Clarke's dedication to service men and women is reflected in the many benefits that are provided.
After his military service, Martin turned to Clarke to help him transition from an IT background to nursing. He found support for his goals inside the classroom and out, thanks to our friendly and welcoming community.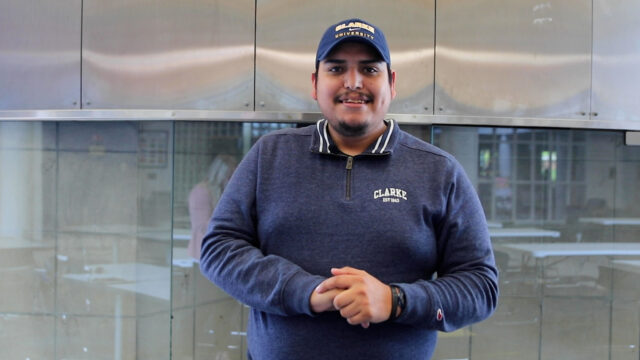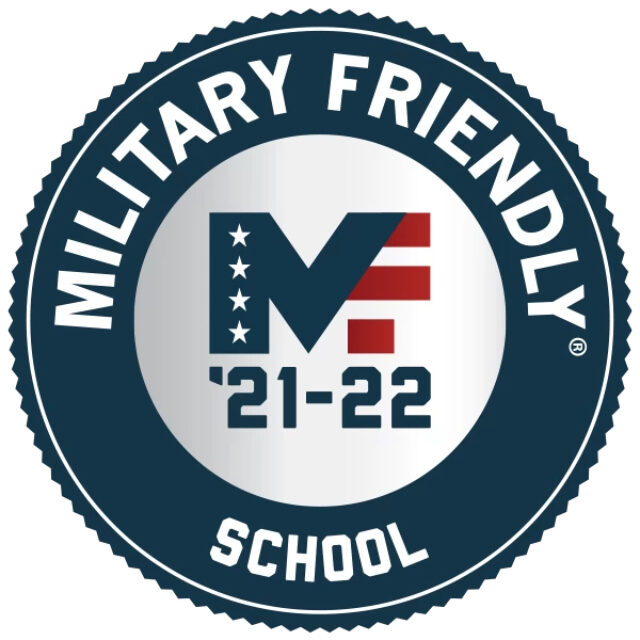 ACE Recommendations for Transfer Military Credit
Clarke University follows the American Council on Education (ACE) recommendations for the transfer of military credit for military training and previous college coursework.  Students must request a Joint Services Transcript (JST) to be sent to the Clarke University registrar's office.
Experiential Credit by Examination or Portfolio
Military and veteran students may apply for credit by alternative means such as transfer credit from previous college work, and nationally standardized tests including College Level Examination Program (CLEP) and Defense Activity for Non-Traditional Education Support (DANTES), or through Prior Learning Assessment (PLA) portfolio assessment. The maximum combined credits granted by Clarke University for CLEP, DANTES, and PLA portfolio assessment is 30 credit hours.
Affiliation with DANTES, ACE, Veterans Administration
Clarke is accredited by The Higher Learning Commission of the North Central Association of Colleges and Universities. Clarke University is affiliated with the US Department of Defense (DoD), Iowa Department of Education, and with state and local Veterans Administration contacts.
Scholarships from The American Legion on Iowa Foundation
Clarke University offers scholarships to Pell-eligible or financially stressed student veterans in the 2020-21 academic year. This is possible because of a grant awarded to Clarke by the American Legion on Iowa Foundation, giving the opportunity to give back to those that served by offering scholarships specifically for student veterans. By offering scholarships to Pell-eligible veterans, the American Legion of Iowa directly supports the lifelong academic goals of those who have served our country. These scholarships are supported by a grant from The American Legion of Iowa Foundation.
Flexible Military Leave
If a military student is suddenly called to active duty or otherwise temporarily relocated, our military leave of absence policy allows the student to immediately suspend their learning process without academic or financial penalty. Upon your return to Clarke, the staff will work with you to get you reestablished in the completion of your degree program.
Staff Dedicated to Veteran Services
Clarke adult studies, registrar, and financial aid staff are all trained and dedicated to ensuring that veteran students receive the support services they need to be successful in their degree program.
Yellow Ribbon Program at Clarke
Student veterans, dependents or spouses who are eligible for the Post 9/11 BI Bill may apply for the Yellow Ribbon Program. Yellow Ribbon awards will provide up to $5,000 to be directly applied towards tuition per academic year and the amount is matched by the VA. This amount will not exceed tuition costs. To apply, contact your admissions counselor.
Counseling Referral Services
Clarke's counseling center provides an excellent first point of contact for individuals who are struggling with their re-entry into school. This office has access to a broad range of community services available to provide the necessary support for veteran students seeking assistance.
Veteran-Friendly Programming
The Clarke adult and graduate studies programs are designed to meet the educational needs of military and veteran students while allowing the flexibility to enter the workforce. Courses are scheduled in a convenient, adult student model that provides the maximum educational experience with minimized on-campus requirements. This delivery structure allows military and veteran students to engage in full-time progression toward their degree while managing work, family, and community commitments.
Academic Support Services
Clarke's military and veteran students have full access to learning and academic writing center services through the Nicholas Schrup library. Assistance with study skills, note-taking, test-taking, and writing skills are available during daytime hours or in the evening by appointment. Special accommodative services are available through the learning center for students with disabilities.
Career Services
Students needing assistance in finding employment opportunities may work with the Career Services office to address their specific needs. Students may also consider internship opportunities that provide a blend of work and learning experience. Staff members are available to assist with job searches, resume development, interview skills, and other services as needed. The Career Services office maintains connections with the VA representative for Iowa Workforce Development services.
Military Deployment Refund Policy 
As specified by Iowa Code Section 261.9(1)g, Clarke offers these options for a student who is a member, or the spouse of a member if the member has a dependent child, of the national guard or reserve forces of the United States and who is ordered to state military service or federal service or duty:
Withdraw from the student's entire registration and receive a full refund of tuition and mandatory fees.
Make arrangements with the student's instructors for course grades, or for incompletes that shall be completed by the student at a later date.  If such arrangements are made, the student's registration shall remain intact and tuition and mandatory fees shall be assessed for the courses in full.
Make arrangements with only some of the student's instructors for grades, or for incompletes that shall be completed by the student at a later date.  If such arrangements are made, the registration for those courses shall remain intact and tuition and mandatory fees shall be assessed for those courses.  Any course for which arrangements cannot be made for grades or incompletes shall be considered dropped and the tuition and mandatory fees for the course refunded.
Section 103 Compliance Policy
All students who have completed the Clarke-VA Education Benefit Enrollment Form, submitted their COE and have been certified by the University, will not be restricted in any way for the first 90 days of a semester if the reason for the delay in making payments for the certified semester is due to a delay in receipt of benefits from the VA. This will include assessing late fees, placing restrictions or registration holds. After the 90 days, the University will treat each veteran on a case by case basis. Students also have the option of agreeing to a payment plan, which will allow for additional time for payment to be received.