First Year Admissions Process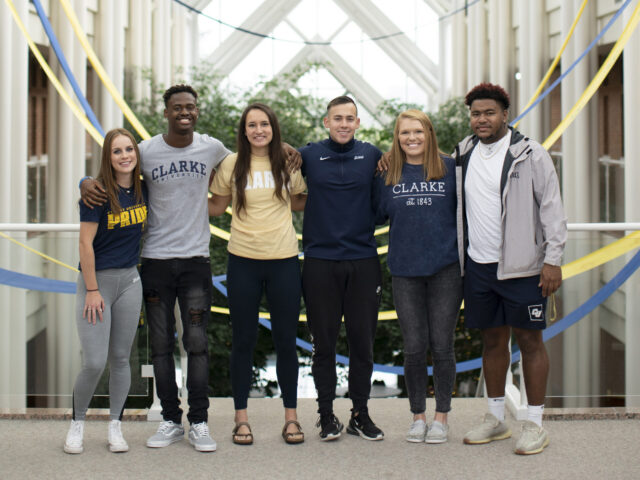 Admission Standards:
Admissions preference is given to those who have a cumulative and core GPA of a 2.5 or above on a 4.0 scale.
Clarke is test-optional; we will provide an admission decision without a test score. 
This allows applicants the option to either submit or not submit their SAT or ACT scores for the admission process. We believe students should present the most comprehensive picture of their academic and intellectual accomplishments when applying for admission to Clarke. If a student believes their standardized test scores will be valuable supporting information during the review process, then the results may be submitted. Students who feel their high school records alone are a better indicator of their academic achievement and ability may choose to exclude their test scores from their application without penalty.
Application Process:
Complete your application.
Request that your high school send us your transcripts. Clarke will accept unofficial transcripts for acceptance purposes, but you must submit official transcripts for enrollment.
Transcripts can be sent to admissions@clarke.edu
OR mailed to:
Admissions Office
Clarke University
1550 Clarke Drive
Dubuque, IA 52001-3198
If you decide to send us your test scores, request that your ACT or SAT be sent from the testing agency by entering the Clarke code below. Clarke also accepts a copy of the student score report for the ACT or SAT; which is available for free online.
1290 ACT
6099 for SAT I