Tips for a successful transfer
At Clarke, we pride ourselves on providing one-on-one support through every step of the transfer process, as well as tools and resources you can reference at any time.  
With that in mind, we created a series of videos that can guide you through some of the most common questions surrounding the transfer process. You can also find a helpful list of items and answers to some of our frequently asked questions below. 
Transfer Tips Video Series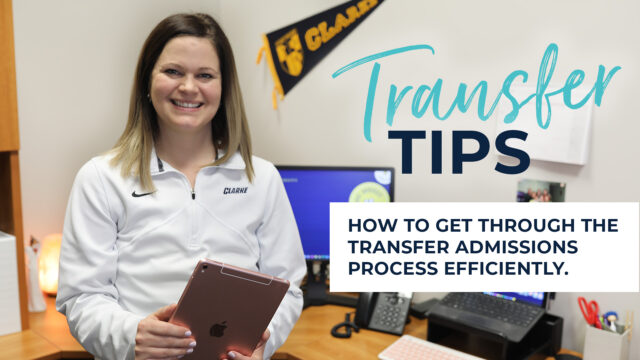 Stay on track to transfer
Inquire early

in the process. As soon as you know you intend to transfer to Clarke, we can start helping you select courses at your current institution that can successfully transfer here.
If at a community college, inform your academic advisor of your plan to transfer. They can also help guide your course selection to meet any requirements of a potential AA/AS while also working toward a transfer to Clarke.
Keep a record of your course syllabi. To earn credit for some of your courses, you may need to submit a syllabus, especially if it is a course that will work toward your major.
Review

Clarke's academic catalog

Review the section with your intended academic major to see what prerequisite, support, and intro-level courses are required.
If not obtaining an AA/AS prior to transferring, check out the Clarke Compass section to get ideas on general education courses that may transfer well into Clarke.

Not planning to enter Clarke with an AA or AS?

Review the curriculum guide for your intended major. This will list required and supporting courses and their sequence and can help you choose some courses to take at your current institution. 

For Education, Nursing, and other majors in the sciences, sequencing can be quite complex. It is best to transfer earlier to keep your timeline to completion on track. Please reach out in advance for assistance in course planning.
FAQ's
WHAT ARE CLARKE'S TRANSFER ADMISSIONS REQUIREMENTS?
To be considered for admission, a student needs at least a 2.0 (4.0 scale).
Students must submit transcripts from all institutions attended for admission and academic credit review.
Transcripts must showcase forward academic progress and success in core academic coursework.
Students with under 24 college credits may be asked to submit a final high school transcript and/or test scores.
HOW MANY CREDITS CAN I TRANSFER INTO CLARKE?
Clarke University accepts credits from accredited two-year and four-year colleges and universities. A maximum of 64 credits will be accepted from two-year institutions and a maximum of 90 credits will be accepted from four-year institutions.
The grand total of all combined transfer credit is not to exceed 90 credit hours.
Clarke accepts Associate of Arts and Associate of Science degrees from accredited institutions.
HOW DO I KNOW IF MY CREDITS WILL TRANSFER?
With a completed application file, you will receive a personalized academic credit evaluation showing exactly how your credits will transfer to Clarke, Compass, and your major.
Unofficial transcript evaluations will be completed upon request.
Clarke's online Transfer Evaluation System (TES) allows you to see how your classes will transfer.
CAN I RECEIVE ASSISTANCE IN SELECTING COURSES AT MY CURRENT SCHOOL TO HELP MAXIMIZE MY TRANSFER CREDITS FOR CLARKE?
We can help with course selection prior to starting at Clarke to ensure you are getting the most transfer credits and to help you stay on track for your intended major. Your current advisor can also assist in this process

.
HOW DOES CLASS REGISTRATION WORK?
Transfer students will meet with an academic advisor to select their courses. Once registration opens to new students for the incoming term, students are able to request a registration appointment on a rolling basis up through the start of classes. Appointments are conducted virtually and typically last about thirty minutes. Students must submit their enrollment deposit prior to registering for classes.
HOW DO I MAXIMIZE MY FINANCIAL AID?
Completing your admission application starts the process for building your financial aid package. This gives us the information we need to see which Clarke scholarships you are eligible to receive. Learn more about scholarships at clarke.edu/scholarships.
It is recommended that all students submit the Free Application for Federal Student Aid (FAFSA). Clarke's institution code is 001852 at studentaid.gov.
WHAT HOUSING IS AVAILABLE FOR TRANSFER STUDENTS?
Transfer students are welcome and encouraged to live on campus· Housing options for transfer students include traditional residence halls with double and single rooms. The Catherine Dunn Apartments are available to sophomores through seniors and offer apartment-style living with the convenience of staying on campus.
DO I HAVE TO LIVE ON CAMPUS?
Students are required to live on campus until age 21 unless they live at home with a parent within 30 miles of campus or students who obtain a housing waiver by emailing

residencelife@clarke.edu
WHAT IS AVAILABLE FOR COMMUTER STUDENTS?
Commuter students are just as involved in campus activities as residence students. Relax between classes in the commuter lounge, atrium, library, or outside. Take advantage of your free access to athletic competitions and events and come cheer on the Pride! Lunch in the café or cafeteria. Or receive some extra support through the Margaret Mann Academic Resource Center, University Health and Counseling Services, and much more. As a commuter student, you have access to all the same resources as residence students.