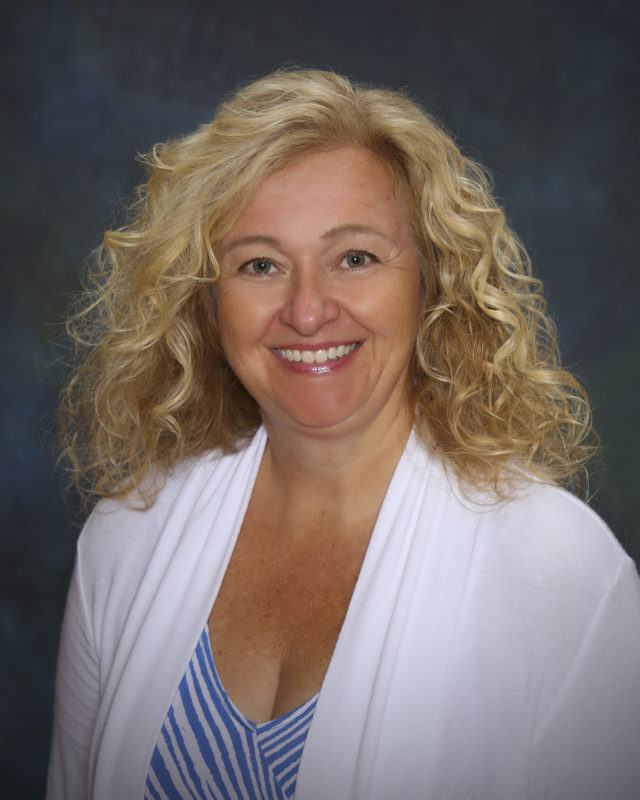 Alecia Thiele, PT, DPT,
MSEd
, ATC/LAT
Associate Professor and Director of Clinical Education 
Number of years at Clarke: 23   
Tell us a bit about your family.
I've been married to my husband, Shawn Thiele, for 26 years. We are both Physical Therapists and Athletic Trainers, and we met in college at UW-LaCrosse. We have two children, Colin, 22 who just graduated from St. Louis University in May with his BS in Aerospace engineering and works for Boeing; and Natalie, 10, who loves to figure skate and do gymnastics; she will be in 5th grade this fall. 
Tell us about your career highlights before coming to Clarke.
Prior to coming to Clarke, I worked as a full–time Physical Therapist and did coverage as an Athletic Trainer for athletic events. My first job was at Mercy Hospital in Dubuque followed by Medical Associates Clinic in Dubuque. 
What brought you to Clarke? 
I was mentored to coordinate and supervise student interns at Mercy Hospital in Dubuque, and then I became the coordinator of student clinical interns at Medical Associates Clinic in Dubuque. The Clarke PT Program faculty interacted with me in placing some of their first Clarke PT students in their new Clarke PT program at my clinic. After the interactions, they reached out to have me assist with coordinating clinical experiences from the Academic side of things. I started at Clarke in January of 1997, and I have been at Clarke ever since. 
You recently participated in a panel regarding Post-Intensive Care Syndrome. Tell us a little bit about that.  
I was fortunate to present on the topic of Post-Intensive Care Syndrome (PICS) with a team of amazing PT professionals for the APTA NEXT conference. The conference was originally scheduled in Phoenix, AZ this June but changed to a virtual conference due to the global pandemic. I met one of my co-presenters years ago when serving as a delegate for the APTA House of Delegates. He and I were talking about our workouts that morning before the meeting. I shared my frustration and inability to get back to high mileage running (marathon training). As I shared my story, he listened intently and shared information about PICS. The PICS team invited me to review my medical history and in doing so they brought me into their research network on the topic. The topic of PICS became near and dear to my heart since I found out I had experienced PICS after my daughter, Natalie, was born. I have published and presented on the topic together with the PICS team since I was introduced to the topic a few years ago. I feel very privileged to be a part of the group, and it's really crazy how a simple conversation grew into such an amazing learning and growth opportunity. As for the virtual portion of the NEXT conference, it was a wonderful way to engage and be successful using the latest technology tools. 
What is your fondest memory since coming to Clarke? 
I don't think there is one memory that stands out to me. When I reflect on my time at Clarke, I think of all the connections I've made with the people at Clarke and the people who take our Clarke students in the clinic. I value most of the bonds I've made with the academic and clinical faculty and staff, but I also deeply value all the students and alums who give my role here a purpose.  
How have you adapted your classroom since the onset of COVID-19?  
My classroom is essentially all the clinical sites we place our students in for clinical experiences. The healthcare world and all of our clinical partners have had to adjust to this new normal with the virus. I am so grateful and appreciative of the adaptations our clinical partners have been able to make to continue to support student learning during the pandemic. 
What do you like to do outside of work? 
I love to spend time with my family, connect with my friends, exercise, watch a great movie, window shop, and bake treats. 
If you weren't in the field you're in now, what other field or career could you see yourself working in and why?   
I really love teaching. A large part of being a physical therapist is educating patients/clients. The ability to teach patients/clients about their PT diagnosis and how to manage it is at the center of making the connection to promote healing and recovery. A large part of my role at Clarke is to place students in the clinic. My job is to help guide students to make the connection between the classroom and the clinic in order to become successful healthcare professionals. I honestly cannot see myself doing anything that doesn't involve teaching with students or patients/clients either in the classroom or in the clinic.