Social Media Guidelines and Policy
Purpose
Social media is a great way to reach new audiences on a free platform. The following information is intended for use by students and employees of Clarke University. At Clarke, our goal is to share content on all the great things happening on campus and in the community. Social media is about creating conversations, sharing events, connecting with current students and alumni, attracting prospective students, providing resources, and building positive relationships.
It is important to use social media strategically to share Clarke information and events, but also to attract potential students to Clarke. In this policy you will find hashtags that you can use to help posts be noticed, disclaimers about negative feedback, other social channels to engage with, and how to use social media properly.
List of University Social Media Channels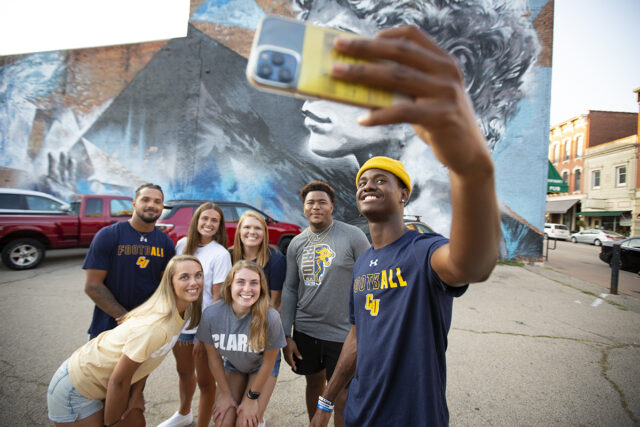 Emergency Communications
All crisis and/or emergency communications will be generated by the University emergency management team and will be posted on the main Clarke University social feeds with links to additional information as available.
Departmental social media sites may never independently post emergency information without central coordination with University officials.
All media or external requests for comment should be filtered through the emergency management team.
Disclaimer
Posts and comments containing discriminatory statements; personal attacks; threats; advertisements; spam; nudity; bullying; harassment; profanity; are factually erroneous, libelous or widely-off topic; are from an anonymous blog; or otherwise violate federal or state laws, university policy, or the guidelines of social media sites are prohibited. Clarke reserves the right to remove negative comments and block individuals for anything that violates this policy. If you see a post, comment, or account in violation of this policy, please report it to the Marketing & Communication team at marketing@clarke.edu with screenshots, as you are able.
User Agreements for sub-accounts of Clarke University
Whenever a social media account is created, the social media outlet requires the account creator to agree to certain terms and conditions for use of the site by clicking "Yes" or "I accept" as part of the account creation process. These are legal contracts, and they often contain terms and conditions that create risks for the account creator and the University. Account administrators are delegated authority to create official social media accounts through completion of the application process and approval by the Marketing & Communication Team. The Marketing & Communication Team will request legal and/or administrative approvals prior to approving applications when required.
University employees and departments are not authorized to enter into advertising agreements with social media sites without prior authorization and approval obtained by contacting Marketing & Communication. Any social account wishing to purchase advertising services from social media sites, or from any type of publication, must follow all applicable rules and policies governing both the public relations considerations and the procurement and contracting considerations related to such services.
If a new account is created, marketing@clarke.edu must be notified.  
The naming of the account: Clarke University X.
Finding your platform
When it is time to set up a new social media account, the most important part is knowing who your audience is. Each platform tends to have a different approach to sharing information.
Facebook
This platform tends to be adults (25+). On Facebook you can create a group or page that may best fit your needs (more information below). Facebook allows for lengthy text posts and is great place to provide a lot of information. Posts that tell a story tend to perform better than instructions and tend to have a larger reach when a photo or video is shared. Organically posting a video performs better with algorithms versus posting a link to a video.
LinkedIn
The audience on LinkedIn is a wide range of individuals, typically looking for an internship or career. This is a great place to network with professionals and reach out to businesses about products. Posts should be oriented around sharing expertise in your field and information about your work environment.
Instagram
Current and potential students tend to be the most active on Instagram, but it is not where they get information. In order to make a post on Instagram, you must have a visual (photo or video) that helps portray the story or message you are sharing. The only link available is in your profile biography. There are tools available that allow you to create a site to multiple links such as linktree. Instagram stories is a great way to get information out with an 'influencer' who is willing to talk on camera. There are Clarke stickers available to use for branded visual content and links can be added right to the story. Instagram Reels is a trending new platform that is reaching many non-followers with fun videos.
Twitter
This platform is for quick instructions/ information. The audience tends to be 16-30 years old and known for trending/ viral events. This is a great place to share a link to a video, announce events, and have quick conversations.
TikTok
This platform has a wide variety of audience ages. All posts on TikTok must be some type of video between 0:15 – 1:00 long. Storytelling, narrating, and dance challenges are just a few of the many available trends that appear to a rapidly growing number of users. When using TikTok, please see information about Music Permissions.
Snapchat
This platform is typically used as a way for communication via images and/or video. 'Group chats' can be created with usernames to send messages to specific audiences. Snapchat Stories allows shared imagery to be available for 24 hours to anyone that follows the account. When sharing to a story you can also add a location (such as Clarke University) that will appear on maps if the account is not private.
Creating a post
Best Practices
Listen. Spend time listening to your audience. What issues are on the minds of people you want to reach? What content do they want to see? How often do they want to see content? What will add value to the information they already are gathering elsewhere? When are they active?
Engage. Social media is all about interaction. To be successful you must comment, like, share, and generally engage your audience. Be conversational.
Be accurate. Make sure you have all the facts before you post. If you do make an error, correct it quickly and visibly.
Maintain confidentiality. Don't post confidential, sensitive, or proprietary information about students, employees, and alumni. Example: showing/ sharing exact location of where a student/ employee/ alumni lives
Be aware of liability. You are legally liable for what you post on your site and the sites of others. Clarke University prohibits the posting (or sharing) of content deemed to be proprietary, copyrighted, defamatory, libelous, or obscene.
Be respectful. Comments should not defame, attack, or otherwise disrespect. You are more likely to achieve your goals or influence others effectively if you are constructive and respectful. Think before you post. There's no such thing as a "private" social media site. Search engines can turn up post's years later. Content and comments can be screen captured, forwarded, or copied.
Privacy policies and algorithms change often. It is your responsibility to be informed of and regularly review the privacy policies of the social media channels you use and maintain an understanding of how these sites distribute information to your audience.
Use the data. Most social media outlets offer free analytics that will tell you who is using your page and when. Use that information to evaluate how effective you are at achieving your objectives and to adjust accordingly. These analytics can show you that a photo may perform better than a post with a graphic or without a photo. Analytics will also provide the best time to schedule your post.
Ask for help. If you encounter a question you cannot answer, a comment you are not sure how to respond to/ violates our policies, or you locate incorrect information, submit a project request through www.clarke.edu/marketing/projectrequest. For threats/ policy violations always report these to the Marketing & Communication department with a screenshot and detailed information.
Let your post breathe. There will be events and days where a lot can be shared on social media. However, posting too frequently can cause the platform algorithms to hinder the natural appearance of the post. Try not to post more than 3 with a maximum of 5 posts a day to allow time for your content to appear in newsfeeds.
There are many places you can look online for tips and tricks to boost your social thumb print. 15 Types of Content to Post on Social Media to Keep Your Feed Fresh [Infographic] | Social Media Today
Insights
Using the analytics on your social media channel should be used for strategic sharing. Analytics can tell you the types of posts that perform best (video, links, or photos), the best time to share a post and who your audience is. By following the posts, you can also learn what hashtags to use that best suit your audience and what other channels you can tag.
Negative messages
Social media is driven by individual thoughts and opinions. Use negative comments as a time to listen to your audience and intervene by responding or removing comments as necessary. Removing a negative comment is generally not advised unless it is profane, rude, abusive, or threatening to another user. The below should be shared or linked to your social media page. All messages that violate the Clarke Social Media disclaimer/ policy should be reported to the Marketing & Communication Department.
Note: 'Hide' on Facebook will make the comment only visible to the person who posted and admins of the page.
Permissions
Photo permission/releases
Clarke University students sign a photo release when they apply. If you are hosting an event (example: music camp) parents should also sign a photo release form with their registration. If someone does not agree, avoid taking photos or disclose this information to the photographer. You can notify Clarke marketing to attend events for future marketing materials and social media content or submit photos to marketing@clarke.edu. If you need a photo release form, please contact the marketing office.
Music Permissions
Copyright is an issue every business experiences. If you are posting a video that uses music, you must credit the artist and disclose that you do not own the rights to the music. Copyright laws allow for the use of no more than 30 seconds of a piece. Placing the following disclosure statement may (but not always) stop social media platforms from muting your video.
Disclosure example
"Good Old Days" – Macklemore ft. Ke$ha
Clarke University does not own the rights to this song, nor intend to profit from the music.
Event/Promotions
Official Clarke University social media channels can help promote your department event or social media presence on Facebook, Twitter, Instagram, Snapchat, Tik Tok, and LinkedIn. Alert the Social Media Marketer a minimum of two weeks in advance by submitting a project request at www.clarke.edu/marketing/projectrequest. Include information about the event, date, time, and preferred platform of your organization or department's post, along with any posters/ photos to be used. When you are creating posts on your social platforms, make sure to tag our official Clarke University profile to get more visibility.
How to interact with us on social
To receive Clarke University interaction, be sure to tag our official accounts. This will notify the social media marketer of the available information to be reshared based on the official account audience. The official accounts will react/comment at minimum to appropriate posts. All events sponsored by the university will be reshared to the story when notified of the post.
To tag our accounts, use "@" and the official account handle.
Instagram stories
We are only able to reshare stories with the Clarke University tag