Clarke Launches New Accelerated Elementary Education Pathway
By Megan Hinderman | April 18, 2022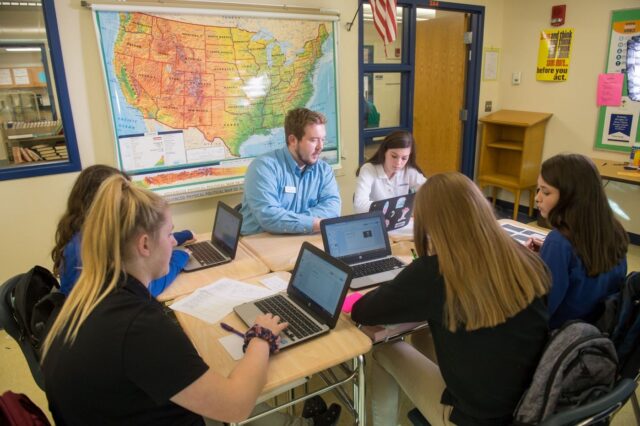 Thanks to our deep roots in Dubuque, much of Clarke's growth is guided by the needs of our community and the world around us. As our region and country face a dire teacher shortage, Clarke seeks to support area schools with our new Accelerated Elementary Education degree.  
Now accepting enrollments for Summer 2022, the accelerated degree pathway expands access to our high-quality program to aspiring teachers outside the traditional college setting. By providing an online format, this pathway allows professionals in the field, such as substitute teachers and paraprofessionals, to take the next step in their careers while working full-time. The program uses the same core courses and personalized support Clarke is known for and pairs them with interactive discussions that help educators connect and learn from one another.  
The timing of this new offering could not be more critical. Two out of every three school districts nationwide report a teacher shortage. Teacher turnover costs districts over 2.2 billion dollars per year and negatively impacts student learning, teacher morale, school culture, and parent satisfaction. Offering training to those already engaged with students, such as paraprofessionals, teacher's aides, and substitute teachers, is one solution that can help our schools while also improving the pay and career trajectory of individuals. 
"The Clarke University Education Department has listened to our local K-12 colleagues who have asked for this pathway" said Dr. Ellen Spencer, Chair of Education. "The online format allows working professionals to stay in the classroom while enhancing their skills and knowledge of Clarke. Together, we can help those passionate about Education take the next step in their careers and support future generations of learners." 
Clarke is collaborating with the Archdiocese of Dubuque, Western Dubuque, and the Dubuque Community School District to make the program available to their staff and hopes to expand the offering to schools throughout the area. This innovative programming is but one example of the many ways our core values, Strategic Plan, and dedication to our One Clarke, One Community guide all that we do.