Clarke University becomes first private college to partner with all 15 Iowa Community Colleges
By Clarke News | October 28, 2020
In line with the CC Today, CU Tomorrow (Community College Today, Clarke University Tomorrow) initiative, Clarke University is excited to announce a new partnership with all 15 community colleges in Iowa effective immediately. The Transfer Major Steering Committee of the Iowa Department of Education recently approved Clarke's proposal to accept full associate of arts and associate of science degree transfer majors with a two-year completion at Clarke. Each community college now has articulation agreements with Clarke in four to eight of the following transfer majors: Business, Chemistry, English, History, Mathematics, Psychology, Elementary Education, and Secondary Education.
Clarke University President Thom D. Chesney shared, "As a former community college president now serving at a private university, I have witnessed firsthand how too many students unnecessarily lose credits, incur additional costs, extend their time to a degree, or quit college altogether due to uneven, unfair, and impractical transfer practices. Clarke University's agreements with all 15 Iowa community colleges drop barriers and raise opportunities in a much more straightforward, student-centered process."
CC Today, CU Tomorrow is a partnership designed to lower barriers, costs, and time to a bachelor's degree.
This transfer major partnership grew out of the NICC Today, CU Tomorrow partnership with Northeast Iowa Community College that was announced at the start of 2020. This partnership expands into the 14 remaining Iowa community colleges: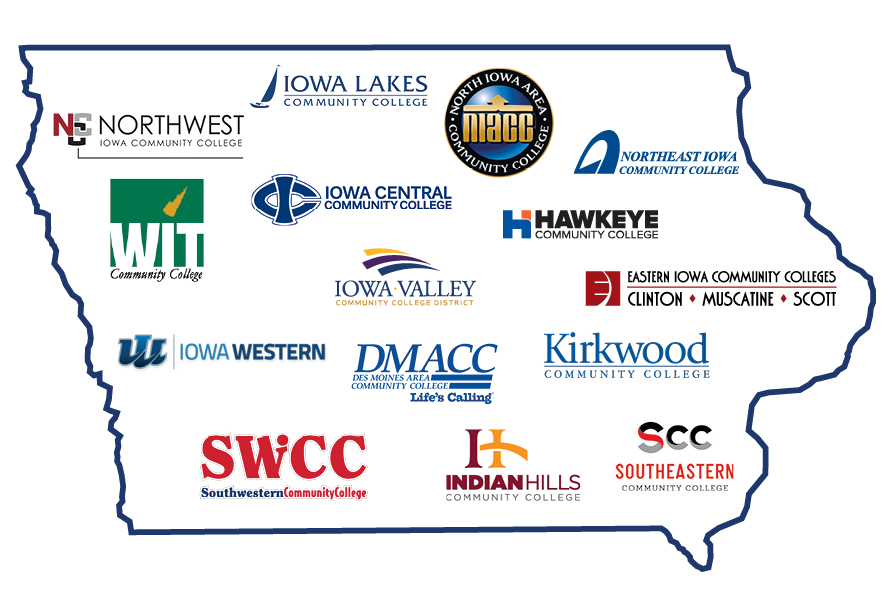 Des Moines Area Community College, Eastern Iowa Community College, Hawkeye Community College, Indian Hills Community College, Iowa Central Community College, Iowa Lakes Community College, Iowa Valley Community College, Iowa Western Community College, Kirkwood Community College, North Iowa Area Community College, Northwest Iowa Community College, Southeastern Community College, Southwestern Community College, and Western Iowa Tech Community College.
Susan Burns, Vice President for Academic Affairs and Dean of the Faculty notes that Clarke University has a rich tradition of meeting learners when and where they need us. Building upon the success of our relationship with NICC, we are pleased to be the first, and currently only Iowa private Institution of Higher Education to work with the 15 Community Colleges for students' degree completion. The faculty, staff, and administration of Clarke University are committed to being a transfer-friendly institution and look forward to adding additional transfer major articulations in the future.
These new partnerships are adding to the momentum Clarke has built with efforts to streamline transfer pathways. Clarke has established: a policy to accept full associate's degrees (AA/AS), a system for aiding in reverse transfer, transfer scholarships, special scholarships for Phi Theta Kappa honors society members, and a new Transfer Center on their website to make the research process easier for students looking to continue their education at Clarke.
"We are working toward a model of meeting transfer students where they are and helping them build a clear path through Clarke to reach their goal of obtaining a bachelor's degree. Aside from the new transfer major articulations, we also offer 2+2 transfer guides in a variety of majors for students looking to transfer from any accredited community college. While many students transfer in with an associate's degree, not all do. I also assist with individual course planning to ensure students maximize their time and money as they navigate the complexities of transferring credits. We are truly focused on how we can serve each student best," said Clarke University Director of Transfer Admissions Julie Cirks.
For a full listing of the accepted transfer majors by community college and other transfer student resources, please visit our website at clarke.edu/transfer.