Growing the Clarke Community: The Clarke Alumni Referral and Engagement (C.A.R.E.) Society
By Clarke News | April 26, 2021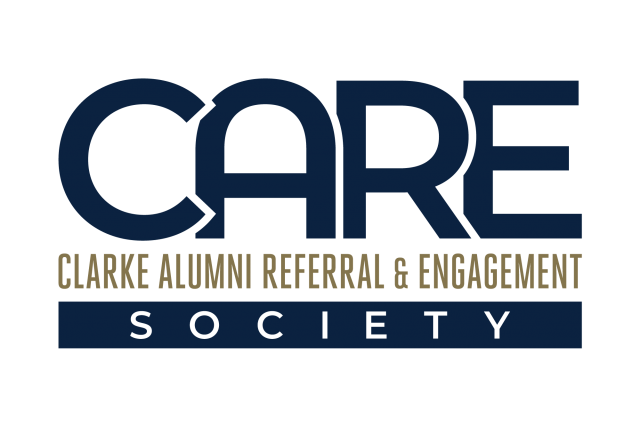 By Bill Biebuyck, Vice President for Institutional Advancement
There is more than one way to give back and support Clarke. The newly established Clarke Alumni Referral and Engagement (C.A.R.E.) Society is a perfect example of how you can make a big difference at Clarke beyond your bank account, and it is already yielding very positive results.  
Through the C.A.R.E. Society, alumni and friends have referred 53 new prospective students to Clarke since November 2020; 16 of these referred students have already deposited for the fall semester. As a perk of being a referred student, all 53 of these students are eligible to receive a $1,000 C.A.R.E. Society scholarship each year for four years should they choose to attend Clarke.   
Our referrers are also recognized in special ways through this program. Once your referral is submitted, you will receive a special acknowledgement from the Alumni Office and a C.A.R.E. Society notepad. You will also be invited to follow your referred student's admissions journey.  After a referred student deposits, you will receive a custom-crafted Clarke University journal as a token of our thanks. Finally, all C.A.R.E. Society members are recognized as part of the University's honor roll of supporters displayed in Wahlert Atrium.  
In addition to offering philanthropic support for Clarke, introducing a prospective student to our University through a C.A.R.E. Society referral is a wonderful way to show your support and admiration because referred students turn into enrolled students, and ultimately future graduates. The advantages of a distinctly Clarke education are an invaluable gift that will keep giving on for generations to come. We greatly appreciate everyone who has submitted a referral thus far and the experience has been rewarding to participants as well.  
"I first got to know Emma several years ago through the high school booster club. As time passed, I began to see how she could thrive at Clarke because her academic and athletic interests align with the University's offerings. The C.A.R.E. Society presented the perfect opportunity to introduce Emma to Clarke and provide some valuable scholarship dollars," explained Carrie (Lambe) Kremer '98. 
There are other ways to serve your alma mater and engage with our students and recent graduates through the C.A.R.E. Society.  For example, 146 undergraduate students will receive their diplomas this May, and many are already actively seeking employment. If you are aware of an employment opportunity for which you could serve as a contact person, or you could assist in referring a student to the appropriate personnel, please reach out to us. We would appreciate the support of our alumni network in ensuring our students and graduates find the right fit for them and all the skills they've developed at Clarke. 
 Thank you again for your support and enthusiasm surrounding the C.A.R.E. Society. We invite you to continue taking advantage of this new program and helping us welcome the next generation to Clarke and our incredible alumni network. Your referrals ensure that Clarke will continue to grow well into the future. 
 For more information surrounding the C.A.R.E. society or to refer a student, please visit www.clarke.edu/alumni/care-society. You can also contact our Alumni Office at alumnirelations@clarke.edu.