Catholic universities across the country create and express their own distinct experience of community, celebration, and service. At Clarke, we integrate our Catholic heritage into campus life in a way that helps establish an atmosphere that is uniquely Clarke.
Our expression of the Catholic faith goes back to the 1800s and the days of our foundress Mary Frances Clarke (notice a similarity in the name?). Together with a pioneering group of women, she traveled from Dublin, Ireland to the United States, ultimately forming the Sisters of Charity of the Blessed Virgin Mary (BVMs) and Clarke University. The BVM sisters in their teaching, compassion and courage, embodied the Catholic faith in a way that still defines Clarke today. This faith grounds who we are and what we do.
Want the whole story?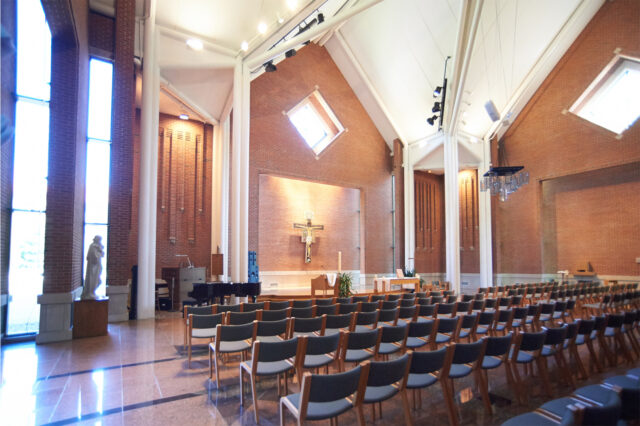 So, how does Clarke's Catholic heritage impact you?
Explore your beliefs.
You'll find a contemporary faith community at Clarke that offers plenty of opportunities to explore your own beliefs. The Catholic faith is, of course, our foundation. At the same time however, we emphasize living this faith in a way that is welcoming and open to persons of all religions.
At Clarke, you will be able to explore and deepen your beliefs throughout our curriculum – even in your major – so you can see how your faith integrates with all that you do. You will have the chance to further your faith development in your general education religious studies courses as well. (Don't worry – they aren't designed to be preachy). Instead, they invite you to be inquisitive and to see how your beliefs and those of others shape the world we live in.
Outside of the classroom, campus ministry's semi-annual Antioch retreat is one of the most popular events on campus (whether you are Catholic or not)! It's a weekend away from the demands of life, and from campus, to relax, reflect and refresh – and it's a ton of fun.
Pray and worship.
Looking to grow in your relationship with God? Looking for worship opportunities? You'll find those at Clarke, too. We hold regular liturgy throughout the year in our modern Sacred Heart Chapel and Mass is held on Sunday mornings. Masses are often student organized and you can even get involved as a liturgical minister or musician (It's a great time with great people!). Other prayer experiences like scripture study groups, adoration, and seasonal prayer celebrations and liturgies are also found on campus.
Live in community.
Clarke's Catholic heritage shapes the ways we interact with each other on a daily basis. While we don't always talk about these interactions as being Catholic, they are. You will find an environment at Clarke that fosters respect and support. We strive each day in our relationships to live the values of justice and charity. These values create an environment that is uniquely Clarke – and it's something you have to experience to understand.
Living Christian faith in community also means being responsible stewards of the world we all share. That's why as a campus, we are focused on increasing our sustainability efforts. We are taking steps to be more energy efficient, to use green materials whenever possible and recycling bins are in every residence hall room on campus.
Lend a helping hand.
At Clarke, we embrace Jesus' call to "love your neighbor as yourself." We do this through events such as our semi-annual Into the Streets service day which draws 200 participants from campus into the Dubuque community for a day of making a difference (while sporting their matching t-shirts).
But helping others goes beyond service days – it's woven into everything we do (even your coursework!). In 2016, nursing students traveled to Ecuador to offer healthcare to some of the most needy at a BVM mission Clarke has supported since the 1960s. The year before, education students visited that same mission to bring new teaching methods and materials to the teachers. And students in our physical therapy program offer free services to Dubuque community members in need. And those are but a few examples of the ways we lend a helping hand.