"There is always someone in your corner"
By Clarke News | November 23, 2021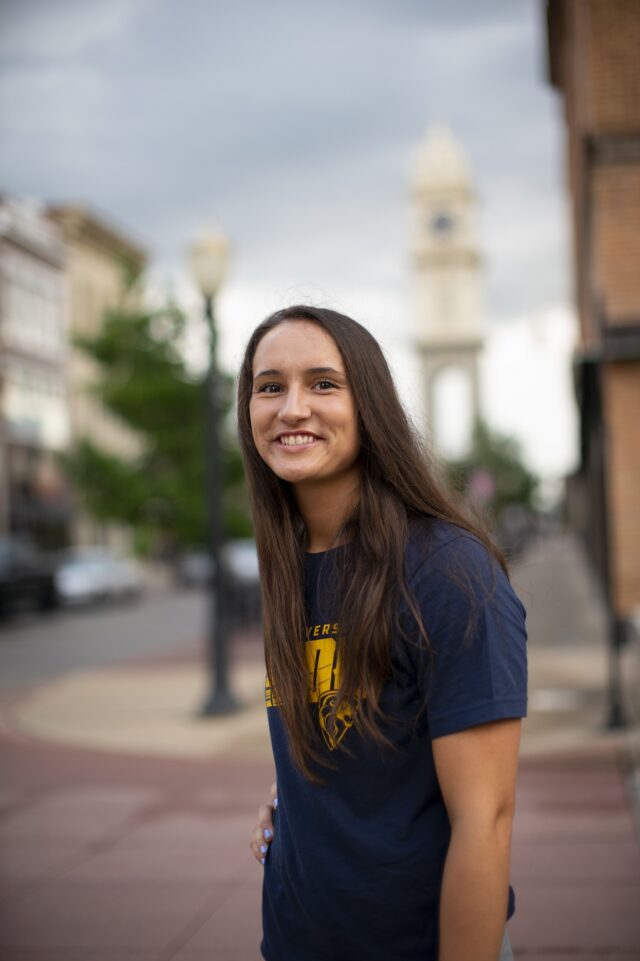 Whether your first day of college lies ahead or is only a memory, we can all relate to the mix of nerves and excitement of being someplace completely new. Not only do you have the jump from high school to college level academics, but for many it also includes the challenge of living away from home for the first time and making new friends. But as Becca Schroeder '22 can attest, it doesn't take long to feel like you're a part of the community at Clarke.  
Starting with CONNECT weekend, this community invites you in," Schroeder said. "You make new friends and you're welcomed to campus before you ever even enter a classroom. After growing up in a small town like Bellevue, Iowa, having that connection was important. I could feel that everyone, even the faculty, cared about me. 
Having that faculty support was especially important to Schroeder as she took on an ambitious academic plan. Though initially unsure of her path, Schroeder worked with her advisor and the Compass program to explore different areas of interest. Now in her senior year, Schroeder is a double major in Secondary Education and Mathematics with endorsements in English and Science. As she explored all these different interests, she learned to make good use of the office hours and open lines of communication provided by Clarke faculty.  
"Math in particular is a challenging subject and it's a rigorous program, but I know I'm well prepared for a lot of opportunities," Schroeder said. "Those times that I need help, I know I can use office hours or reach out to a faculty member. I've never had to wait more than 24 hours for help. I know they care about me and understand there is life outside of number theory."  
Schroeder seems to have an affinity for doing things in pairs: not only is she a double major, but she's also a two-sport athlete for the Clarke Pride. 
"Being a member of the volleyball and basketball teams has enhanced my experience 1000 percent," Schroder said. "With athletics, that support circle from the classroom gets even larger. I know people like Coach Boyd, or Elle, who was an assistant for women's volleyball and is now the men's volleyball head coach, are always there if I need to talk. They care about me as a person, not just an athlete." 
To build upon this base of support, Schroeder and other Clarke athletes are working to form the Clarke Association for Student Athletes (CASA). The organization, which will receive official National Association of Intercollegiate Athletics recognition in 2022, is dedicated to giving athletes a voice and increasing their opportunities on campus. Working with Athletic Director Curt Long, the organization also aims to create connections with similar groups at other Heart of America Conference Schools. 
"Sometimes as a student athlete, you can get so focused on your commitments to school and your sport that you miss opportunities that are right in front of you. The goal of CASA is to generate more support between the teams and the greater student body so we can all cheer for and learn from one another," Schroeder said. 
Schroeder has found several ways outside of athletics to get involved, including serving as a resident assistant for three years and joining clubs like Teachers for Tomorrow, Dance Marathon, and Math Club. For her, it is all about contributing to that sense of community she felt in her first days on campus. 
"Being a Clarkie is really living the idea of One Clarke, One Community. You are never alone here, there is always someone in your corner. You try to give that support back to others as well."