Clarke University Adds Two New Undergraduate Programs and Plans to Launch New Master Program
By Clarke News | September 19, 2018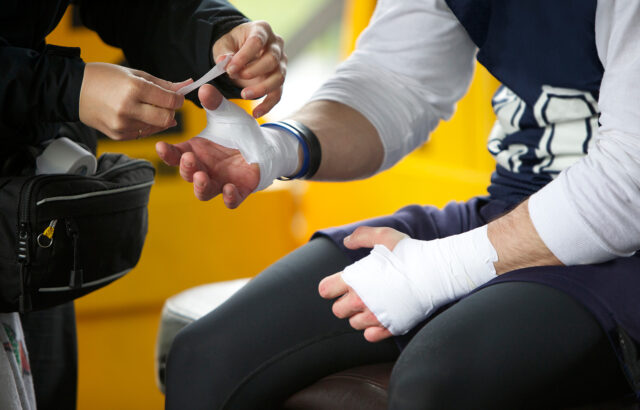 Clarke University has launched two new undergraduate programs: Health, Wellness & Behavioral Sciences (HWBS) and Interdisciplinary Studies. We also plan to launch a new Master of Athletic Training (MAT) program in the near future.
Master of Athletic Training (MAT)
After receiving notice of successfully achieving the maximum 10-year continued accreditation from the Commission on Accreditation of Athletic Training (CAATE), Clarke is setting its sights on launching the Master's of Athletic Training (MAT) in the near future. The MAT is the new entry-level standard of preparation for athletic training students. Clarke aspires to continue its tradition of preparing industry leading athletic trainers to the ever growing and changing healthcare system. 
Program Director and Professor of Athletic Training Melody "Dee" Higgins, PhD, ATC, LAT, said "The MAT is going to be incredible for Clarke. Clarke students will be afforded increased opportunities for growth and development in a 3+2 format prior to entering into the healthcare world, which will facilitate their futures and contributions in athletic training and healthcare." Bachelor's degree-prepared students who graduated from another institution will be able to apply for entry into the two-year master's program.
Health, Wellness & Behavioral Sciences
Bachelor of Arts or Bachelor of Science
Clarke's Health, Wellness & Behavioral Sciences (HWBS) major supports and engages students in an academically rigorous program that promotes their personal and intellectual growth. Students will be prepared to responsibly contribute to society. They will utilize self-reflection in self-optimizing processes to guide personal success, health, wellness, and behavioral decisions and through the empathetic process to guide others.
Students in the HWBS major choose either the Life Coach Counseling emphasis or a separate minor (except psychology).
The emphasis in Life Coach Counseling provides additional preparation for students to successfully impact the client to affect multi-categorical change in the areas of financial, emotional, social, psychological, physical health, and well-being. This emphasis is intentionally broad-based to prepare students to engage persons in holistic health and wellness. Life Coach Counseling graduates will  have the knowledge, skills, and talents to evaluate a person's life, assess needed changes, and assist in carrying out positive change.
Graduates with the Bachelor of Science in HWBS are well-positioned to continue on to graduate programs such as athletic training or physical therapy. Graduates of either the BA or the BS program could enter a number of employment fields including health education, personal training, social work, clinical psychology, or behavioral analytics.
Interdisciplinary Studies
Bachelor of Arts
The interdisciplinary major is a rigorous academic program in which the individual student assumes primary responsibility for designing her or his own academic program. Because the interdisciplinary major is structured by the student to serve individual needs, the primary courses selected for the major invariably cross traditional departmental boundaries. This program is perfect for students who have multiple interests, or who want to explore a research question across several disciplines.
Professor of Sociology Rachel Daack, Ph.D., said, "This program promotes personal responsibility and motivation, creative approaches to question asking, critical thinking, and independent research. It ensures graduates are career and life-ready upon graduation. This new major allows Clarke students choice and individualized guidance."
The Interdisciplinary Studies degree provides a solid background for limitless employment opportunities. Some employment fields include publishing, public health, journalism, writing, business, law, non-profit work, and even new professions that do not yet exist.
Clarke University is celebrating 175 years of service throughout the 2018-19 academic year. Founded in 1843 by the Sisters of Charity of the Blessed Virgin Mary, Clarke is located near the Mississippi River in the thriving city of Dubuque, Iowa. It is the only BVM university in the country.
Clarke is a Catholic, liberal arts and sciences university dedicated to preparing students who positively impact their workplace, family and community. Academic offerings include more than 40 undergraduate liberal arts and pre-professional programs, and six graduate degree programs.