Clarke University Launches New Master of Athletic Training Degree
By Clarke News | July 23, 2020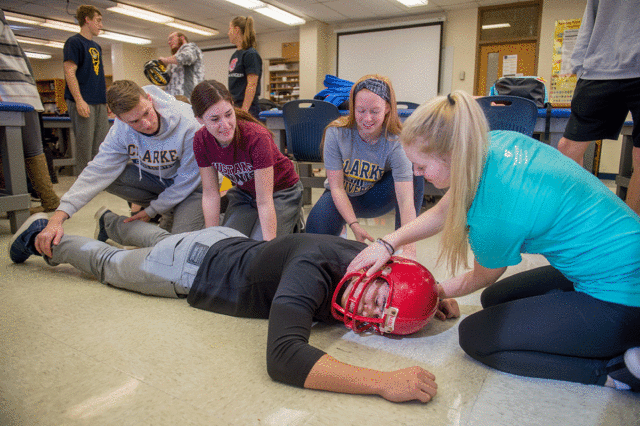 Clarke University is excited to announce a new graduate program, Master of Athletic Training (MAT). The Clarke Athletic Training Program (ATP) is phasing out the Bachelor's of Athletic Training Degree (BS) and phasing in the Master of Athletic Training Degree (MAT).
After receiving notice of successfully achieving the maximum 10-year continued accreditation from the Commission on Accreditation of Athletic Training (CAATE) for the BS in 2018, Clarke began the process to launch the Master of Athletic Training (MAT) for 2021. The MAT is the new entry-level standard of preparation for athletic training students. Clarke aspires to continue its tradition of preparing industry-leading athletic trainers to the ever-growing and changing healthcare system.
Program Director and Professor of Athletic Training Melody "Dee" Higgins said, "The MAT will offer incredible opportunities and experiences for Clarke and its students. Clarke students will be afforded integrated hands-on experiences in diverse settings for growth and development in a 3+2 format prior to entering into the ever-evolving healthcare world, which will facilitate their futures and positive contributions to their athletic training and healthcare communities."
The Clarke University MAT is structured with two pathways for entry, an accelerated 3+2 program for Clarke students or a direct-entry 2-year Master's degree for students who have completed a bachelor's degree previously. Clarke students apply for admission to the MAT during the fall semester of their junior/third year of undergraduate studies. Non-Clarke students apply for admission to the MAT during the fall semester of their Bachelor's final year. Qualified Clarke University students will be given priority for the (approximately 18) limited openings in the program per year. Some of the most popular undergraduate majors that Clarke students choose when working towards entrance into the MAT are Health, Wellness and Behavioral Sciences, Psychology, and Biology.
Clarke's Athletic Training students complete clinical experiences/rotations in Dubuque, Iowa, and other area high schools, colleges, physician offices, health care facilities, and health services offices. Students must log a minimum of 1,000 hours and a maximum of 2,000 hours of clinical education time in order to graduate.
Paige Murphy, Athletic Training '21 and Physical Therapy '23, thinks that the transition to the MAT is an important move for Clarke. She said, "Moving from the bachelor's to MAT gives athletic trainers more of an opportunity in the workplace. This will also make it easier for the students to focus on their AT classes. Getting into the bachelor of AT is quite competitive as is being accepted into any graduate program, so I believe it will be competitive to get in to Clarke's MAT. I also think because it is the 3+2 format, Clarke will have a lot more applicants from which to choose."
Sawyer Foss Athletic Training '21 said, "I am excited for Clarke to be moving to a MAT program. Earning a bachelor's helps students truly understand the background information that comes into play when learning applications of Athletic Training. The 3+2 program is extremely beneficial for Clarke students. Students who complete their undergraduate degree at Clarke and who are then going into the MAT program can have a better foundation of sciences and information about Athletic Training before jumping into diagnosis and treatments. It gives more time for some difficult classes, so then students can focus on classes like assessment and modalities more instead of worrying about physics or physiology."
Foss also commented about the benefits of clinicals in the program. He said, "Classes are always very important. However, they never match to clinical experiences. Students can read about edema, laxity, or different forms of rashes. However, being able to see it on a patient allows students to directly participate in the care and treatment for them. It allows the students to practice, ask questions, and get answers they did not think about in class."
Clarke University students' overall Athletic Training Board Pass Rates for the past six years for those with an athletic trainer degree have been between 90-100%, with 72-100% of those students passing the first time. In addition, last year, all Clarke AT graduates secured a job in their field or enrolled in graduate school by August.
Vice President for Academic Affairs Susan Burns said, "Clarke University continues to prepare students for successful careers, enriched lives, and meaningful engagement with their communities. The successful approval from both the Higher Learning Commission and the Commission on Accreditation of Athletic Training Education affirms the outstanding quality of faculty and programming in Athletic Training. Our transition from the baccalaureate program to the Master's of Athletic Training is a natural extension of the excellence in undergraduate and graduate academic programs Clarke University offers. Whether students start their undergraduate career on a path toward the 3+2 MAT or enter the 2-year MAT path after completing a baccalaureate degree with another institution of higher education, Clarke University continues to meet learners when and where they need us."
For more information, please contact athletic.training@clarke.edu or visit the MAT academic page.