Admissions team builds on successes for 2021-2022
By Clarke News | June 24, 2021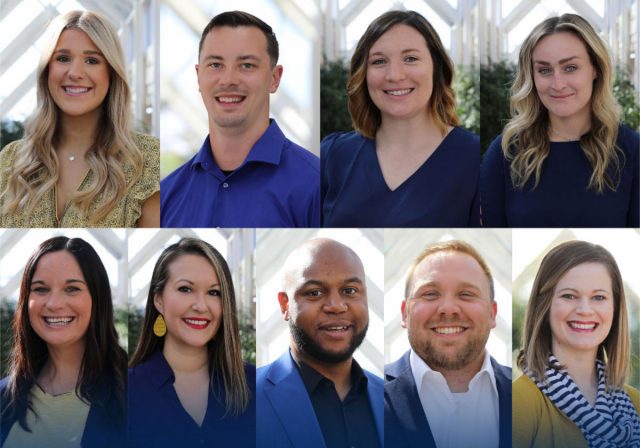 When faced with the challenges of a global pandemic, the Admissions team at Clarke University strove to innovate and overcome. By introducing virtual visits and reducing barriers to education for students, Clarke saw record enrollment for spring transfers and continually growing numbers for fall 2021.  
Building on the success of 2020-2021, Clarke University is taking steps to increase access to a high-quality education in the coming school year as well. This includes efforts such as expanding the Peer Mentoring Program, a collaboration with Clarke Engagement & Intercultural Office, the MARC, and Social Work Department. Focusing on first-generation and underrepresented students, the Peer Mentor Program pairs incoming students with sophomores and juniors to help them navigate their new home at Clarke University.   
The team also increased its support of students transferring to Clarke through the CC Today, CU Tomorrow program. Beginning with Northeast Iowa Community College (NICC), Clarke became the first private college to partner with all 15 Iowa Community Colleges – reducing barriers, costs, and time to a bachelor's degree by developing comprehensive transfer articulation agreements. 
Along with these focused efforts, the Admissions team is introducing new staff to support the needs of all students. Admission Counselors Grace Burds, Annika Sunleaf, and Elliot Gaul were hired in June 2021 and are excited to work with prospective students, families, and alumni who refer students through the Clarke Alumni Referral & Engagement (CARE) Society. While some of this outreach will continue through virtual events, Clarke is working to safely offer on-campus events again soon. 
Choosing a college can be a stressful time for prospective students and their families; by adding new staff we can offer additional support and resources that simplifies the process and helps them feel at home in the Clarke Community," said Director of Enrollment Ali Boyd. "Our counselors work closely with financial aid, as well as our academic, athletic, and student life offices to make information accessible whether we meet virtually or in-person.
To support the continued growth of the university, the Admissions team is extending the application deadlines for fall 2021, including popular programs like the Doctor of Nursing Practice and Master of Social Work. If you know someone who is considering Clarke, invite them to experience our One Clarke, One Community as part of the CARE Society at https://clarke.edu/alumni/care-society/.