Building a Transfer-Focused Recruitment and Retention Strategy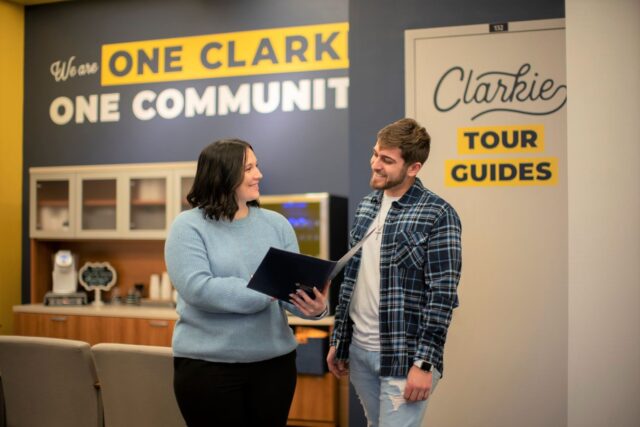 In Clarke's Strategic Plan, we state that our number one goal to recruit, retain, support, and develop successful students. While a straightforward goal, there are many actions we can take to achieve it. One key initiative for our Enrollment Management team is to actively welcome and assist transfer students with completing their bachelor's degree with us.
With transfer students making up a little over a quarter of Clarke's incoming undergraduate class each academic year, serving transfer students is both mission-driven work and a sound recruitment strategy.  Students transferring to Clarke can have complex academic pasts and may have had poor college experiences at their previous schools.  For that reason, it is crucial for us to purposefully seek out ways to better serve our transfer students.
Over the past few years, our CC Today, CU Tomorrow initiative elevated us from simply being transfer-friendly to transfer-focused. This year, we built upon this important work as we identified our most transfer-friendly majors, developed additional articulation agreements, and simplified academic credit evaluations to help students better understand what a transfer to Clarke means for their educational plan. We also initiated partnership conversations with several regional community colleges in Illinois and Wisconsin and revised our transfer student onboarding processes to be more student-centered.
Clarke's commitment to transfer students has also been showcased in our expanded transfer scholarship offerings, including the Phi Theta Kappa scholarship and Community College Partnership Award, as well as the CARE Society Award. The CARE Society offers a great opportunity for our alumni and friends to join Clarke in this important work, as it awards a $1,000 renewable scholarship to students who come to Clarke, including transfers. For your referral, you receive special recognition at events like Homecoming, exclusive discounts on our CareerPLUS programming, and several gifts acknowledging your commitment to the future of Clarke.
The many efforts to serve transfer students at Clarke has received attention both in our community and nationally. Clarke has earned two-time Phi Theta Kappa Community College Honors Roll distinction, establishing us as one of the most transfer-friendly colleges in the nation. Honor Roll selections are based on a review of the institution's admissions and recruitment practices, articulation agreements, student support services, campus life, and more.
Additionally, due to our extensive work with community college partnerships in Iowa, we were asked to assist with obtaining a grant through the Teagle Foundation to develop an easy-to-navigate transfer network statewide. Through collaboration with our neighboring community colleges and private universities, we can ensure that Iowa remains a leader in education and that every student finds the academic community that can best support them.
We are thrilled with what we have accomplished and aim to grow our transfer program into the future, and this mission driven work goes beyond recruitment. Our efforts are collaborative and require a campus-wide commitment. From this current foundation and with the help of our greater Clarke community, we can assist our state in becoming a leader in transfer initiatives and be a supportive place for students to turn as they seek to complete their degree.
Learn more about the transfer process at Clarke at https://clarke.edu/admission-aid/transfers