Clarke University welcomes near-record class for 2021
By Clarke News | September 17, 2021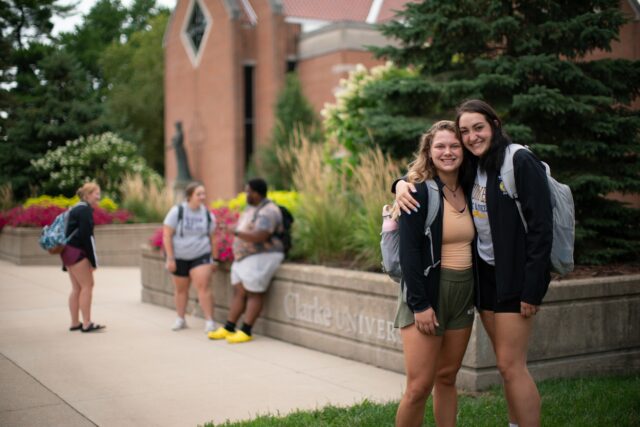 Clarke University is proud to welcome one of the largest and most diverse incoming classes in the institution's history as 264 new students join the Clarke campus community, including 22 international students. Only two incoming classes, 1993 and 2000, have ever topped the 270–mark. 
With the new students, Clarke is now home to 888 students. Coming from all walks of life, the student body represents 41 states and 16 countries. Additionally, 29.6% of all students self-identify as students of color. 
Each student may have discovered Clarke in their own way, yet all were impacted by the tremendous efforts of the Clarke Admissions team. Even when faced with pandemic restrictions, Clarke counselors found new and inventive ways to connect with prospective students. Over the 2020-2021 school year, Clarke Admissions Counselors hosted 254 visits, including 66 virtual visits that helped students get a sense of the campus from the comfort and safety of their homes.  
Our team is committed to supporting students throughout their college decision process and offering unique options like the virtual visit has helped us reach students who may not have considered Clarke previously," said Charles Cotton III, Vice President for Enrollment Management. "We also owe a huge thanks to the faculty, staff, and current students who took part in these virtual visits. Their enthusiasm spread the Clarke spirit far beyond campus and gave these incoming students and families a glimpse of the amazing Clarke community.
Increased enrollments were also supported by efforts like the CC Today CU Tomorrow initiative, which created a seamless transfer to Clarke for students at Iowa's 15 community colleges. This has led to a significant increase in the number of transfer students for 2021, with 81 students continuing their education at Clarke. This also includes nine international transfer students.  
The relaunch of the Master of Business Administration program spurred growth at the graduate level as well. Clarke ushered 65 new students into its master and doctoral programs for fall 2021, which includes the MBA as well as programs in nursing, physical therapy, athletic training, education, and social work.  
The Admissions team was not the only one contributing to this increase in students. In the first year of the Clarke Alumni Referral and Engagement (CARE) Society, 20 students not only decided to come to Clarke but received a $1,000 scholarship thanks to the recommendation of a Clarke alumna or alumnusus in their life. This renewable scholarship promises to support these students throughout their time at Clarke and is a fantastic way for alumni to connect with their alma mater. Alumni interested in making a CARE Society referral may visit https://clarke.edu/alumni/care-society/ for more information. 
"This tremendous growth could not have happened without the full support of students, employees, alumni, and the Clarke community," said President Thom D. Chesney. "Guided by our mission and core values, we aim to inspire and empower these new students not just in the classroom, but as they live, learn, lead, and give as part of One Clarke, One Community."